Bring it on
TCU squad shakes it up in Florida competition
Cheerleaders are attending a national championship competition in Daytona, Fla., this weekend.

Today the TCU Cheerleaders will shake their purple and silver pom-poms in the preliminary rounds of the Chick-Fil-A Cheer and Dance Collegiate Championship for the first time in seven years.

When head coach Jeff Tucker came to TCU four years ago the team was not ready for a national competition, he said. Since then, a lack of money held the team from attending a national competition, he said.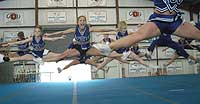 Stephen Spillman/Staff Photographer
TCU cheerleaders are practicing part of their 3-minute routine with hopes to gain prestige at the national championship today.
Tae Kwon Do Club gets plenty of kicks
Tae Kwon Do Club participants are trying to kick their way to nationals, and have a good time in the process.

"Cha rutt. Kyung yet. Choon bee. Say jak." That is the Korean saying that begins each match for the university's Tae Kwon Do Club — "Attention. Bow. Sparring position. Start."
Irvin prepares to take on leadership role next year
Sandora Irvin has already made a name for herself with the Lady Frogs, but she has bigger things planned for next season.

Not even honorable mention All-American honors can make junior forward Sandora Irvin content. After becoming the first Lady Frog to earn a postseason Associated Press honor, she now wants something even bigger.