Tae Kwon Do Club gets plenty of kicks
Tae Kwon Do Club participants are trying to kick their way to nationals, and have a good time in the process.

By Gabe Wicklund
Skiff Staff

"Cha rutt. Kyung yet. Choon bee. Say jak."

That is the Korean saying that begins each match for the university's Tae Kwon Do Club — "Attention. Bow. Sparring position. Start."

Sarah Meyer, the club's president, restarted the club in spring 2003. The university used to have a Tae Kwon Do Club, but it fell apart. There wasn't one for two or three years after that, Meyer said. Last spring the club began with only eight members, and in the past year, the number of members has risen to 25, she said.

Meyer, a sophomore movement science major, has been competing in Tae Kwon Do for eight years; she has been learning the sport for 10 years.

"My little brother actually started when I was about 10," Meyer said, "and just out of not wanting him to be better than me in anything, I started."

She teaches Tae Kwon Do at TCU and trains at the Won Park Institute of Taekwando in Fort Worth twice a week.

Meyer, a second-degree black belt, placed first in Psoome, which is the Korean word for form, at the Fort Worth International Tae Kwon Do Championship last semester. The Fort Worth International is the second largest tournament in the United States with about 2,000 competitors, and it brings in participants from Brazil, Mexico, Poland and all over the world.

The Tae Kwon Do Club goes to about two tournaments each semester, Meyer said. This semester they went to the West Texas Tae Kwon Do Championships, and placed second overall.

Meyer has more than 50 medals from competitions during her Tae Kwon Do career. She competed at nationals, but did not place.

Tae Kwon Do is a modern martial art form, which originated in South Korea, and is characterized by its fast, high and spinning kicks. It is different than other martial arts because it is more of a self-defense sport, Meyer said. It is one of the Olympic sports now, which makes it more of a competition sport also, she said.

Meyer said there are many different variations of Tae Kwon Do, but the club uses the Olympic Style Tae Kwon Do, which employs United States Tae Kwon Do Union (U.S.T.U) rules. There are two different categories they can place in: sparring and form.
Sparring is the fighting part, and form "is sort of like different movements in a pattern, and you compete against different people with the same form," Meyer said.

Herbie Rolph, a senior biology major, has been practicing Tae Kwon Do for two and a half years. He started at the American Karate Academy in DeSoto. He said the most challenging part of the sport is the time commitment and "getting your body to move in ways it is not meant to move."

Rolph, a green belt, took home the bronze medal in both sparring and form at the Fort Worth Tae Kwon Do Championship last semester.

Rolph said he has played many sports, but this one is definitely the most challenging.
"You just don't get good at it overnight," he said.

The Tae Kwon Do Club practices twice a week, Tuesday and Saturday.

Ray Fleischer, a sophomore chemistry major, said the most challenging part of the sport is fighting people who are way above his level because it can be intimidating.

"You never know when you might get your teeth knocked out," Fleischer said.

Fleischer, an orange belt, said it is challenging doing both the physical and the mental part at the same time.

"I love the action," he said. "It keeps me in shape. It makes me think at the same time. It's a good stress reliever."

Meyer said getting to know the people in the different tournaments makes the sport fun and gives her a sort of connection with them.

"I practically grew up at this Tae Kwon Do school where I'd be there five times a week, and it's just sort of that family that you have with them," she said.

The next tournament the club will participate in is the Senior State Competition, April 18. If any of them place, they can qualify to compete at nationals.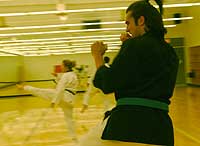 Holly Elder/Staff Photographer
Senior biology major Herbie Rolph, a green belt, follows his director's instructions during daily exercises Tuesday evening in the Recreation Center.