Irvin prepares to take on leadership role next year
Sandora Irvin has already made a name for herself with the Lady Frogs, but she has bigger things planned for next season.

By Brent Yarina
Sports Editor

Not even honorable mention All-American honors can make junior forward Sandora Irvin content.

After becoming the first Lady Frog to earn a postseason Associated Press honor, she now wants something even bigger.

Irvin wants to dunk.

And she's already working on making that incredible goal, which has only occurred five times in the history of women's college basketball, a reality.

"I want to improve my jumping a lot," Irvin said. "I've been saying I'm going to (dunk) for a while and I really want to do it now."

Head coach Jeff Mittie doesn't put the flush past Irvin.

"I definitely think she has the athletic ability," Mittie said. "Sandora is as athletic as there is out there. If anyone can do it, she is certainly on the top of the list."

Irvin has her mind focused on more important aspects of her game, too. The forward wants first-team All-American honors next season. She's determined to improve every facet of her game. From passing to dribbling to outside shooting, Irvin wants vast improvement.

It will be hard to improve upon her 16.8 points, 12.2 rebounds and 3.9 blocks a game as a junior, but Irvin wants it that bad.

"I want to be first-team All-American," she said. "Every player wants their name there. That's one of my biggest goals next season."

If her game continues to improve as much as it has in each of her first three seasons, her stats will warrant such recognition next year.

"I expect to get better every year because we're getting better every year," Irvin said. "And that is good for our program and me because that brings us in better recruits."

No one knows Irvin's game better than Mittie, and he doesn't think first-team honors is out of the question.

"I think it's a possibility," he said. "I hope she gets it. That will mean she's had a great season, guiding us to another good season. Her potential is better than anyone in the nation."

As much as Irvin wants the first-team accolade, she has no gripes about settling for C-USA player of the year.

"I want to be Conference USA player of the year, now that Chandi (Jones) is gone. I told the C-USA people at the tournament that I'm winning it next season since Chandi isn't going to be around anymore."

And to think some people recommended she not attend TCU, saying the program wouldn't make her a better player.

"When I came here people told me that TCU wouldn't help me become the player I need to be," she said. "I feel like Coach Mittie has made me into that type of player. I'm glad I'm getting recognition here now and that I chose to come here. I think I'm proving those people wrong."

Mittie never had any doubts.

"They said she would have to carry the weight of the program on her shoulders if she came here," Mittie said. "That didn't happen. I knew with her abilities and the other players we had here, she would develop into this someday."

Irvin has a chance to prove even more people wrong during her senior season, with a big challenge awaiting her. Irvin will become the team's leader for the first time next year, a duty Ebony Shaw and Tracy Wynn held this season. While being the team's leader from a star perspective, she has never been the vocal leader.

Irvin is ready for the challenge.

"I'm gonna have to step up leadershipwise," she said. "I'll have to be more of a leader. I'm real laid back and this year Ebony and Tracy were the ones leading and being hated by all the teammates for being the leader. I guess I'll just have to be hated next season. No matter what, if I want to be the leader or not, I have to step up and be it."

Hated or not, Irvin will still be her teammates' favorite target on the basketball court. And that can only benefit her run at the TCU record books.

"Everyone remembers those records that I've broken," she said. "I have a chance to put some of them away for a long while. It is really cool to do something like that."

Irvin is the Lady Frogs' all-time leading rebounder with 980 and shot blocker with 330. Her 12.2 rebounds a game this season were the most in the program's history.

In fact, Irvin made such a name for herself with the Lady Frogs during her junior season, setting school records with 504 points, 366 rebounds and 195 field goals made, that she finally got out of her uncle Michael Irvin's shadow.

She is no longer just the NFL legend's niece who plays college basketball. Now, she is "San," one of the best frontcourt players in the nation.

"I'm making a name for myself," Irvin said. "Michael Irvin's now Sandora Irvin's uncle. I never minded anyone referring to me as his niece at all. It's definitely different now though. One of my friends says the commentators comment about me too much."
The elder Irvin won't concede his rank.

"Michael's always trying to give me some pointers," she said. "He's always trying to tell me how to post somebody up. He's a football player. I just tell him you play football, not basketball. Do I tell you how to catch a ball?"

Irvin may want to confront her uncle pretty soon about life in the pros ranks, though.
The forward doesn't want her basketball career to end after her senior season. Instead, Irvin hopes to play in the WNBA and save her marketing degree for life after basketball.
"If you love the game as much as I do, that is what you want to do," Irvin said. "I don't think I'll ever not want to play basketball. I'll go overseas if need be. I really can't see myself not playing this game."

Mittie said Irvin should have a future in the game after her senior season.

"She has all the potential," he said. "I know numerous pro scouts like her game a lot. There hasn't been a player to leave here with more accolades than her."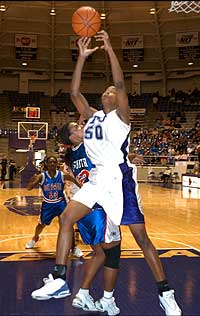 Stephen Spillman/Staff Photographer
With support from her team and head coach Jeff Mittie, junior forward Sandora Irvin is making plans to improve her playing ability in the coming season.