Ushering in a new era
Chancellor speaks of university's potential
Victor Boschini spoke on the university's potential for the future during his inauguration speech.

TCU is a wonderful institution, but it could be even better, Chancellor Victor Boschini said during his inauguration ceremony Wednesday.

"TCU is a remarkable place whose achievements are exceeded only by its opportunities," he said.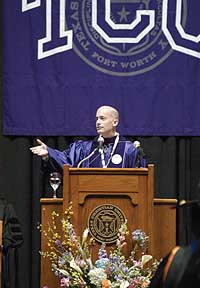 Stephen Spillman/Staff Photographer
The university's 10th chancellor spoke of his plan for TCU and the road ahead.
Boschini's inauguration filled with speakers and music
TCU's 10th chancellor was instated Wednesday in a ceremony that lasted nearly three hours.

The ending of another school year also brings a new beginning for TCU. In a ceremony Wednesday, Victor Boschini was inaugurated as the 10th chancellor in TCU's 131-year history.
Assault suspects identified by investigators
Two students hurt in an incident at Eagle Mountain Lake have decided they will press charges.

The suspects in the alleged assault of two students during Spring Break at an Eagle Mountain Lake campground have been identified by investigators, the Tarrant Country Sheriff's Department said Wednesday.
Forum focuses on ways to better TCU experience
More student voices were heard at Wednesday's Vision in Action town hall meeting than in previous weeks.

Maybe AT&T is on to something when they say, "reach out and touch someone." There isn't enough interaction among TCU students from different backgrounds, said Feleceia Benton, a junior advertising/public relations and musical theater major.