Ushering in a new era
Chancellor speaks of university's potential
Victor Boschini spoke on the university's potential for the future during his inauguration speech.

By Jarod Daily
Staff Reporter

TCU is a wonderful institution, but it could be even better, Chancellor Victor Boschini said during his inauguration ceremony Wednesday.

"TCU is a remarkable place whose achievements are exceeded only by its opportunities," he said.

Boschini spoke on enhancing the TCU experience, enriching its academic life, enlarging opportunities for its student body and elevating its prestige as an institution.

He touched upon the goals and plans of TCU's strategic planning initiative, Vision In Action.

"The VIA group is examining our aspirations in the context of today's realities, so that we can refine our focus and set goals that match our character with our capabilities," he said. "In short, we are setting a new strategic agenda for TCU that truly puts our vision in action.
"I encourage all members of TCU's extended family to participate, whether in town hall meetings or by directly communicating with the Vision in Action team."

Boschini is looking forward to provost-designate Nowell Donovan's academic leadership and hopes his guidance will help usher in a new era of greatness for the university, Boschini said.

"Whatever we accomplish as an institution will be a reflection of the strength and commitment of the exceptional people who define TCU," he said.

Boschini also dedicated a portion of his speech to recognizing the achievements and qualities of the university's students.

"TCU is unapologetically student centered," he said. "Our students are the source of our energy and the reason for our efforts."

TCU's status, when compared against other universities across the nation and the world, does not reflect what he has come to know of the university, a fact he said he looks to change.

"This is our time to assume a higher place in the national pantheon of universities," he said.

Sociology instructor Keith Whitworth said he found Boschini's speech very motivating.
"I was very pleased to hear that he is very supportive of the liberal arts and the connection with the community," he said. "I was also pleased to hear that the renovation of the Student Center is of vital importance to him, as is renovation of the education and dance buildings."

Whitworth said he found the speech's conversational nature enjoyable.

"I think his style of relating to people is very pleasant and warm, and it was obvious in his speech," he said.

Carolyn Ulrickson, director of Career Services, said she is impressed with how Boschini focus on students.

"I know he has a very complex organization to run, but how much emphasis he puts on the students impresses me," she said.

Ulrickson said Boschini's plans for the university's future will help push TCU into excellence.

"He has a good vision of the future without really rushing in," she said.

TCU must move ahead with planning for the future, Boschini said.

"Nobel Prize winning novelist Gabriel Garcia Marquez has said 'He who waits much can expect little,' " Boschini said. "We cannot wait, because the future is now for the students of TCU."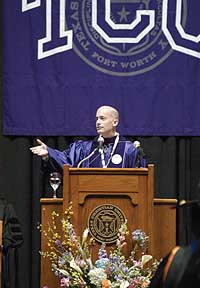 Stephen Spillman/Staff Photographer
The university's 10th chancellor spoke of his plan for TCU and the road ahead.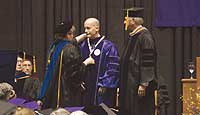 Stephen Spillman/Staff Photographer
Chancellor Victor Boschini receives the TCU medallion from Nadia Lahutsky, who chairs the Faculty Senate, and Chairman of the Board of Trustees John Roach, at his inauguration Wednesday.