Let the controversy begin
Quarterback position remains wide open until August play
Players contend with health issues and practice schedule in hope of gaining key role.

It is 161 days until kickoff for the next Horned Frog football season.

OK, so kickoff isn't exactly right around the corner, but spring practices are in full swing.
Which begs the question, who is the quarterback?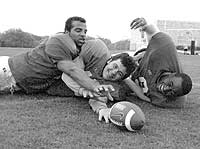 Sarah Chacko/Photo Editor
(From left to right) Senior quarterback Brandon Hassell, junior quarterback Tye Gunn and redshirt freshman quarterback James Battle will be scrambling for more than the ball this fall as they compete for the starting quarterback position.
Freshmen trio has the Frogs' bats on fire
Three freshmen have made a name for themselves on the baseball diamond with their bats this season, and they plan to keep it that way.

Entering the 2004 season, head coach Jim Schlossnagle was searching for a new collection of hitters he could pencil into his lineup card every game.
Men's tennis team prepares for biggest challenge of the season thus far
The team's recent loss to Tulsa has them refocused and regrouped heading into a contest against nationally-ranked Rice.

The TCU men's tennis team will take their No. 11 ranking into a battle against No. 6 Rice today, in a match that has become the season's biggest following last week's loss to Tulsa.