Freshmen trio has the Frogs' bats on fire
Three freshmen have made a name for themselves on the baseball diamond with their bats this season, and they plan to keep it that way

By Brent Yarina
Sports Editor

Entering the 2004 season, head coach Jim Schlossnagle was searching for a new collection of hitters he could pencil into his lineup card every game.

Gone were the Frogs' top six statistical hitters from the year before, who combined to hit .346, leaving Schlossnagle weighing his options this spring.

Well, just a little over a month and a half into his first season with the Frogs, it's safe to say his search is over.

In freshmen Chad Huffman, Shelby Ford and German Duran, Schlossnagle has found much more than a group of hitters capable of replacing last season's departed starters.
He has found the cornerstone of his program.

"They're the core of our program," Schlossnagle said. "We're building our program around those guys. As long as they continue to do what they are supposed to in the classroom and on the field, they'll be names that TCU fans will follow for a long, long time."

Based on their performances this spring, Schlossnagle shouldn't worry too much about their on-field performance.

Through the season's first 22 games, Huffman, Ford and Duran have been nothing less than excellent. In fact, the three freshmen have played so well they comprise the top-third of the Frogs' batting order.

Huffman leads the team in hitting with a .448 average, while Ford leads the team with seven home runs and Duran owns a 16-game hitting streak, bringing his average to .402. Aside from junior Bo Cogbill, who is hitting .403, the three freshmen represent the Frogs' top hitters.

And Schlossnagle understands what these freshmen bring to his team.

"We wouldn't have much of a baseball program without them, right now," he said. "Pretty much how they go we have gone. They're all as good of freshmen as there is in the country."

Duran isn't at all surprised by his play or the performance of the other two freshmen, though.

"We knew we were real good," the shortstop said. "I'm doing a little better than I thought I would be doing, but I'm not surprised. We came in here as three freshmen starting and we knew we had to put up big numbers so we could produce."

Schlossnagle admits the freshmen have exceeded his expectations.

"After fall practice I knew they were pretty special," he said. "I never expected them to perform at the level they are performing at currently as freshman, especially with the schedule we have played. But I knew they were great players and would eventually be this good."

Much of the their successes this season stem from Duran, the leadoff hitter, who owns a .469 on base percentage, the second highest on the team behind Huffman's .564.

"I try everything I can to get on base and get the guys behind me some RBI opportunities," Duran said. "It makes for more runs for us and keeps us in the game and gives us some wins."

Ford said he enjoys batting at the top of the order behind Duran but that his high school relationship with the two other freshmen provides the most benefits.

"It's great, we try to set the tone for the rest of the game with our first three batters," the third baseman said. "We came in as a great group of freshmen. Everyone had played together for a while and we had known each other, which helps out a lot."

Schlossnagle said he hopes to recruit some big bats in the future in order to give his strong nucleus of freshmen some protection in the lineup.

"We need to get some more bats around them, specifically in the outfield," Schlossnagle said. "Then if we can sign some new pitchers to replace these ones, everything should be in place."

Ford can't wait for his next few years in a Frogs' uniform. And he can only hope it will include the other two freshmen.

"I'm really excited," he said. "We'll have a chance to put together even better numbers and have the younger guys grow and develop. We want to be together for the rest of our careers here, but whatever happens, whether some of us get drafted or not, I know we all want to stay together and have a great team here."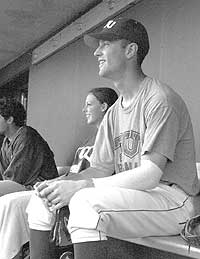 Sarah Greene/Staff Photographer
Freshman third baseman Shelby Ford takes a break from practice to cheer on his teammates at Lupton Stadium.