Let the controversy begin
Quarterback position remains wide open until August play
Players contend with health issues and practice schedule in hope of gaining key role.

By John Ashley Menzies
Assistant Sports Editor

It is 161 days until kickoff for the next Horned Frog football season.

OK, so kickoff isn't exactly right around the corner, but spring practices are in full swing.
Which begs the question, who is the quarterback?

Three names come up as possible suitors for the position: senior Brandon Hassell, junior Tye Gunn and redshirt freshman James Battle.

Is a quarterback controversy brewing on the campus of Texas Christian University?
"No," said head football coach Gary Patterson. "Right now, we're just trying to get our quarterbacks healthy."

Patterson said the position is open and that the team is trying to find someone who can run the offense.

"The quarterbacks in our system are here to manage the offense," Patterson said.
Health, it seems, is the reason this whole situation has come about.

Last season, Gunn entered the season as the starter but had trouble staying healthy. Gunn only played five games and was knocked out of the final six games with a pulled groin muscle.

Hassell took over for Gunn and led TCU to a 7-2 record as a starter.

Gunn said he is getting healthy again and has been knocking some of the rust off in practice. He said he feels ready for the upcoming season.

"I just need to take a little better care of my body," Gunn said. "I'll need to go to more treatment. Go three or four times a day, rather than just one."

Gunn said some of the injuries have been freak injuries and hopes to avoid them this time around.

Hassell isn't safe from injury either. He has a bone spur in his foot which was sustained last season, and has limited him to passing drills and kept him from taking part in full drills for the rest of the spring, he said.

Hassell said the quarterbacks are all competitive and that they know they can play. Injuries are definitely holding the quarterbacks back and before anything can be decided they all need to get healthy, he said.

"It's still early in the spring," Hassell said. "It will take a lot of time. It will just take that person stepping up."

Battle is the new guy. A highly touted prospect out of Denton Ryan High School, Battle was redshirted last season.

"Coach told everyone that anyone could start," Battle said. "I like that they put my name in there. It makes me feel good. I just have to come out here and do what I have to do."
Patterson said that there is no leading candidate right now but that both Gunn and Hassell deserve a shot along with any other quarterback on the roster.

"Tye [Gunn] is there and Brandon [Hassell] had the season he had last season and he definitely should receive a shot," Patterson said.

Gunn said that in any controversy, you just have to block out what everyone says and just go out and play.

"There are people out there who know what they're talking about," Gunn said. "But there are those who don't and you just have to block them out."

Patterson said the decision won't be made by the end of spring and will continue until two-a-day practices begin in August.

Patterson said: "Tye [Gunn] isn't getting the reps. Brandon's foot. Right now we're just trying to give our younger quarterbacks a chance to develop."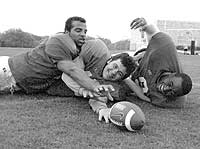 Sarah Chacko/Photo Editor
(From left to right) Senior quarterback Brandon Hassell, junior quarterback Tye Gunn and redshirt freshman quarterback James Battle will be scrambling for more than the ball this fall as they compete for the starting quarterback position.