Hyman's approach keeps him out of the limelight — just how he likes it
Low-key athletics director Eric Hyman cautiously stays behind the scenes.

The world of college athletics is dominated by high-profile coaches and players who are always in the spotlight of the media.

However, sometimes a central figure remains elusive, only appearing every now and then, and never in any depth. In some cases, it could be the fault of a reporter for never fully reporting an issue, but in the case of athletics director Eric Hyman, it has more to do with skepticism.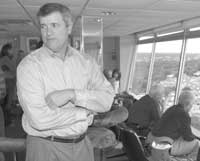 Ty Halasz/Staff Photographer
Greatness has followed athletics director Eric Hyman to Virginia Military Institute, Miami University (Ohio) and now TCU. Hyman recently was named top AD in the D-1 West division by the National Collegiate Director's Association.