Family business
Schobel prepares for long-awaited NFL draft
Bo Schobel is following in his family's footsteps going from a TCU jersey to an NFL one.

By Crystal Forester

It may not be easy to follow the path of others, but Bo Schobel takes the next step this weekend.

Schobel, who has two cousins who already play in the National Football League, is expected to be picked No. 2 in the fourth round by the San Diego Chargers, according to ESPN Insider.

His cousins, Aaron, a second round pick by Buffalo in 2001, and Matt, a third round pick by Cincinnati in 2002, putting the Horned Frog jersey aside to don an NFL jersey.

Schobel follows what is becoming a tradition of TCU football players. His father, Bob, was the first in the family to play for the Horned Frogs and graduated in 1972. Aaron was recruited by TCU in 1996. Matt followed his brother in 1998 after a year at Texas A&M. Schobel finally jumped on the bandwagon in 1999, redshirting his freshman year.

"There was no way he would go anywhere else," Bo's mother, Mary Jane, said.

Anticipation and excitement mixed in with a little bit of nervousness is the way Schobel said he is feeling before the draft.

There is no way to tell what round Schobel will be picked in, if he is even picked at all, because of the way the teams change their positions in the draft, head football coach Gary Patterson said.

"Half of the battle is getting there," he said. "Over the past 25 years guys you thought would go early, didn't go."

The fact that Aaron and Matt went in high in rounds may be a sign that Schobel will go early, Patterson said.

"It all comes down to who's picking and in what round," he said.

Aaron says he definitely thinks Schobel will be drafted, but still has some things he needs to work on.

"I think he will go anywhere from the second to fourth round," he said. "This is a strong draft and that's working against him."

Schobel predicts he will be picked in the second to third round of the draft.

Besides playing football, Schobel has a wife, Lindsay, and a son, Dayne, 3, and graduated with a secondary education degree in December.

Schobel and Lindsay are high school sweethearts and were married March 3, 2000.
Lindsay says they are very nervous about the draft and she has not started to look for a job, even though she graduates May 8.

"We have no idea what to expect," she said. "We don't even know where we will be living."

Although everything is up in the air right now Lindsay said she feels pretty sure he will be drafted.

To stay close to their hometown, Columbus, Lindsay said she would like Schobel to be drafted by Dallas.

Schobel doesn't care where he plays professional football as long as he gets to play, he said.

Schobel is an intelligent football player who is big and fast, Patterson said.

"He's played a lot of downs for us," he said. "Only time will tell how he will do in the NFL."

Schobel turned out better numbers for TCU than his cousins did when they played here.

His family and friends consider Schobel to be quiet, laid back and family oriented.

"He comes to work and then goes home to his wife and kid," Patterson said.
Schobel thinks of football as a job, and is a competitive person, Mary Jane said.

"He saw Aaron and Matt make names for themselves and he tries really hard to do the same," she said.

Mary Jane said her son is not a high-profile person.

"He's not a person who yells and screams," she said. "He would rather keep himself steady."

Schobel started out his athletic career as a baseball player and has always been a good athlete, Mary Jane said.

"He always enjoyed football, but by the time he was in junior high he knew he had to play," she said.

It was natural that Schobel went into athletes because he is built for it and a lot of his family members were athletes, Mary Jane said.

"He always excelled and did well," she said. "We're really proud of him."

During high school and college, Aaron, Matt and Schobel had a short chance play football together, Aaron said.

Growing up the cousins "just messed around in the yard," Aaron said.

To prepare for the draft, Schobel has been working out at a training facility in Houston this semester along with other potential draft picks from all over the nation, Mary Jane said. He has also been watching what he is eating, she said.

During Schobel's workout in Houston, Lindsay has been attending TCU and their son has been with his grandparents, Lindsay said.

"I can't wait for this to be over," she said. "It's been very stressful."

The time in January and February spent in Houston Schobel worked out at least five hours a day, six days a week, he said.

"The hardest part was being away from (Lindsay and Dayne) and trying to go back and forth," Schobel said.

The NFL Combine, where potential draftees go to perform for scouts, was stressful for Schobel , he said.

"It was like a meat market," Schobel said. "They take you height, weight and watch us work out."

The Dallas Cowboys also gave Schobel the chance to work out with the team one weekend this semester. They bring in players from all over the Fort Worth-Dallas area.

"I wasn't there to learn from them, it was more they were learning about me," Schobel said.

When the draft is over the new football players will probably have to go to their respective teams Monday or Tuesday, then stay for three or four weeks for a mini camp.
After watching Aaron and Matt deal with the transition into the NFL, Mary Jane said Lindsay and Schobel will probably rent a townhouse or house when they first move.

"He's lucky to have Aaron and Matt to learn from," Mary Jane said. "He can watch what they did right and wrong."

If Aaron and Schobel have to play against each other Aaron said he doesn't think it would be a big deal, because they play on the same side.

"I would watch from the sideline while he plays," he said.

If Schobel ever had to play against Matt, a tight end, Bo thinks it will be fun and exciting, he said, and he would be happy to see Aaron if their teams ever played against each other.

Dayne, as well as the other grandsons, will probably be pressured to attend TCU when they come of age, Schobel said. Dayne knows the name of football players that hang out with Schobel, he said.

"Dayne has grown up around athletics," she said. "He is good friends with the players and coaches."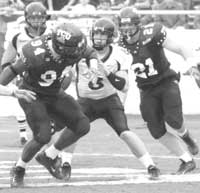 Stephen Spillman/Photo Editor
Defensive end Bo Schobel looks to join his two cousins at the next level in an NFL uniform.