Student's goal: two fields of success
A freshman two-sport athlete plays a big role in the baseball team's offense.

In his freshman season, Chad Huffman has gone from the sidelines of the football stadium to the diamond of the baseball field, continuing a family tradition.

Huffman, a quarterback for the football team and a first baseman and designated hitter for the baseball team, is the second member of his family to be a two-sport athlete for the Horned Frogs. Huffman's older brother Royce also played for both teams and earned TCU All-American honors.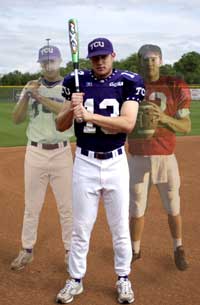 photo illustration by Sarah Chacko and Brian Wooddell
One guy, two teams: Whether swinging a bat or throwing a pass, freshman Chad Huffman is in a league of his own.