Student's goal: two fields of success
A freshman two-sport athlete plays a big role in the baseball team's offense.

By Brent Yarina
Sports Editor

In his freshman season, Chad Huffman has gone from the sidelines of the football stadium to the diamond of the baseball field, continuing a family tradition.

Huffman, a quarterback for the football team and a first baseman and designated hitter for the baseball team, is the second member of his family to be a two-sport athlete for the Horned Frogs. Huffman's older brother Royce also played for both teams and earned TCU All-American honors.

But Huffman says there is more than a family tradition responsible for making him a two-sport athlete. This spring he found out what it is like to hit a home run — including one in his first career plate appearance — but now he wants to know what it's like to throw a collegiate touchdown pass.

"I haven't figured that out yet," said Huffman, who is leading the baseball team in hitting at .447. "That's exactly why I'm playing both sports. I really don't know. All I can say is that they must both be unbelievable."

While Huffman makes his jogs around the bases as an everyday starter for the baseball team, he has yet to break the top three on the football team's depth chart at the quarterback position.

He is only a freshman, though, and the lack of p laying time on the football field won't keep him from remaining a two-sport athlete.

"I think I love football too much," Huffman said. "It's a great game. They told me after high school not to play college football, but I had to play because the whole family has. I think I can handle it, now that I've been through the process once."

Head baseball coach Jim Schlossnagle said he wants Huffman to continue playing football because he can bring an added dimension to the team.

"I love coaching guys who played more than just baseball," Schlossnagle said. "There is a drastic difference in my experience between guys who played high school football and those who didn't. Football is such a great teacher in terms of team concepts, preparation and commitment to a goal because you only play once a week.

"You have to love practice if you play football. Our motto here at TCU is that you have to love to practice, you can't just like to play. And that is what a football player can bring."
Huffman isn't too worried about suffering a football injury. In fact, he missed several baseball practices the past month so he could participate in spring football drills.

"I just go out there and play at full speed," Huffman said. "I don't think about the chance of me getting hurt. I'm not really worried about that."

Schlossnagle, however, isn't as comfortable when his freshman slugger is under center.
"I'd be hoping they were playing two-hand touch, and not tackle," said the first year coach. "But, no, we root for him and just pray he doesn't get hurt."

Senior second baseman Ramon Moses said with a guy as talented as Huffman, nothing can get in his way of being a good baseball player.

"If you're good like him, he is going to be good no matter what," Moses said. "He was born like that. He's a great player and he always seems to see the ball real well. He hits it every time."

Moses said even though Huffman may miss practice due to football, the freshman is the only one player they want up at the plate in pressure situations.

"He brings us confidence," he said. "If there is a situation where we need an RBI or someone to get on base, he is our guy."

And Huffman thrives under that sort of pressure.

"I definitely love to be in pressure situations," Huffman said. "You obviously want to be the guy in the spotlight. Whatever I can do to help the team win, I will do."

Schlossnagle admits Huffman is the team's leader with a bat, but he said the freshman doesn't have a leadership role right now.

"He's a pretty carefree and levelheaded guy," Schlossnagle said. "He's not in any kind of leadership role quite yet. He's just a good player and the guys draw themselves to him. He's kind of a goofy guy and he keeps the dugout lighthearted. But his bat is what makes him so popular on the team."

Aside from carrying on a family tradition and loving to play both sports, the coaching is one of Huffman's other favorite parts of playing both football and baseball.

Between Schlossnagle and head football coach Gary Patterson, Huffman feels he has the best of both worlds.

"They're both great coaches," he said. "Both coaches have different coaching styles, but they are both just great. That's definitely the reason why their teams are so successful right now. Both of them have certainly helped me with my game."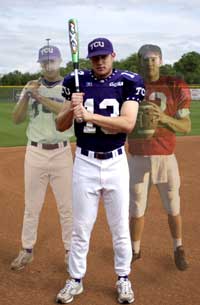 photo illustration by Sarah Chacko and Brian Wooddell
One guy, two teams: Whether swinging a bat or throwing a pass, freshman Chad Huffman is in a league of his own.