OneAsia Bistro
Eatery satisfies even the pickiest diner

OneAsia Bistro is one tasty experience.

OneAsia Bistro, located off Hulen Street and Bellaire Drive, is a small restaurant with a big taste. The menu is large and will satisfy every Pan-Asian pallet. The small interior is modern and cozy, but it welcomes romantic couples or large groups of friends.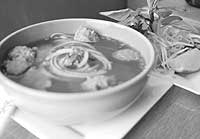 Sarah Chacko/ Photo Editor
Pho One Asia, Spider rolls, and Do Xao Dac Biet (One Asia Sizzling Plate) serve up a complete Asian experience all in one sitting.