Tuition raise to compensate shrinking endowment
In order to make up for dwindling endowments and increasing costs, universities across the country have raised prices.

If it's any consolation, TCU's continued increases in tuition is keeping in step with a national trend toward boasting upfront costs to compensate for decreasing endowments. And it could get worse before it gets better.

Tuition has risen more than 60 percent since the 1999-2000 academic year, from $12,290. Flat rate-tuition and fees that began in fall 2001 have risen to $19,700, a 30.9 percent increase.

Although TCU's endowment is on the rebound, the 2004-2005 tuition hike will still be necessary to cover expenses, said Carol Campbell, vice chancellor for finance and administration.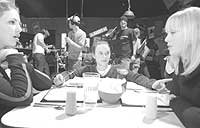 Ty Halasz/Staff Photographer
Short movie director Emily Gipson (center), a senior radio-TV-film major, directs a staff of RTVF students in filming for a Video III class project.