RTVF soon to show student-run short movies
They have tackled the art of soap operas and sitcoms. Now, RTVF students are producing short movies to be featured at film festivals.

By Amy Bowman

Video III production students are venturing into the world of short movies.

There will be three student-run movies produced over the course of the semester, professor Chuck LaMendola said. The films give students from several radio-TV-film classes a chance to work together and to put their work onto a resume reel, he said.

Video III students will take part in the directing, producing and photography for each project, LaMendola said. They have also enlisted the help of the on-camera acting class for the actors, the audio class for audio and post production and freshman radio-TV-film volunteers and entry-level classes to help with set design, costumes and make-up, he said.

Each project is a different story and is directed by a different student.

"The hardest part about directing these projects is getting everyone on the same page," said Clint Gage, a senior radio-TV-film major.

But the projects are a great experience, he said.

Haely White, a junior radio-TV-film major, is a lead character in the first project. White auditioned for the on-camera acting class and then auditioned and received the part of Maddie, she said.

"Everybody works together and truly cares about the success of the projects," White said. "It's not just a class to us."

The first film is about a love triangle in which Maddie is torn between two of her past relationships, Gage said. It is an interesting story and it keeps you guessing until the end, he said.

Pre-production has already began for the second project and production will begin in March, Gage said. Production of the third project will begin in April.

After the films have been finished they will be submitted to different film festivals in the student category around the Metroplex and other major cities, LaMendola said.

White said it is important for students to see what the radio-TV-film department does.

"People are oblivious to the state-of-the-art equipment we have and all the work that goes into these projects," she said. "It is important for students to know that anyone can be involved in the projects in some way."

There will be a TCU film festival, open to all students, to view the three projects the Wednesday night of finals week, LaMendola said.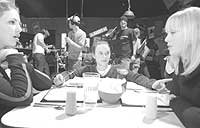 Ty Halasz/Staff Photographer
Short movie director Emily Gipson (center), a senior radio-TV-film major, directs a staff of RTVF students in filming for a Video III class project.