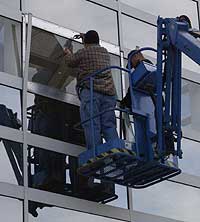 Sarah Chacko/Photo Editor
Brian Pinto and Nick Aleman, employees of Econo-Glass and Mirror, replace a cracked pane on the Moudy Building Wednesday morning.
College selectivity difficult to verify
College admissions offices can manipulate applicant numbers to appear selective in college ranking surveys. TCU will use an auditor to ensure accuracy.

College admission officers say there is a need to define exactly what constitutes an application to prevent misuse of the number of applications reported by schools seeking a higher standing in student user guides.
Pictures give applications special touch, officials say
With admissions officers reviewing as many as 2,000 applicants a region, staff members say pictures of TCU applicants can help admissions get to know applicants better.

Optional photos on applications help admissions officers remember certain students as they sort through the submissions of thousands of prospective TCU students, university officials said.
Senseless Acts of Comedy entertain student crowds
Those who want a good laugh have the option of seeing a live performance on campus Thursday nights.

Thursday nights can kick off the club and dancing scene for college students. For others there's Senseless Acts of Comedy, the improvisational comedy troupe that performs on campus.
Workshop focuses on communication skills
The School of Business will hold a two-day event to teach students the skills they need to succeed in their careers.

The Neeley Center for Professional Communication will sponsor and coordinate the seventh annual Corporate Communication Workshop today and Friday at the Dee J. Kelly Alumni and Visitors Center.