Frogs pull off upset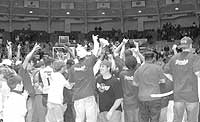 Stephen Spillman/Staff Photographer
Frog fans celebrate the first victory over a top 10 team since 1990 at the end of the Louisville - TCU game Tuesday at Daniel-Meyer Coliseum. Story on page 8.
Alleged trespasser posts $2,500 bond

A 20-year-old male student suspected of criminal trespass of habitation has turned himself in to the Tarrant County Jail and posted $2,500 bond, TCU police said.
Debaters agree: death penalty is wrong

A philosophy professor, a religion professor and a political science professor may usually have plenty to disagree on, but all three were in agreement Tuesday night that the death penalty is wrong.