ADPi 'Mocktail' shakes up Student Center

The Student Center Ballroom may never be the same after being crowded with pirates, old men and cocktail waitresses all making non-alcoholic beverages at Alpha Delta Pi's fourth annual "Mocktails Blend-Off" Thursday night.

Liz Byrd, ADPi Vice President and event chairwoman, said the night was an overall success. The sorority reached their goal of $2,500 through entry fees, T-shirt sales and student voting to benefit the Ronald McDonald House charities, she said.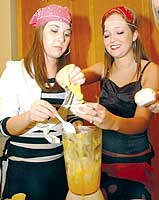 Photo by Ty Halasz/Staff Photographer
Zeta sisters Leslie Winchell and Taryn Woods mix and blend the golden creation of ZTA in the Student Center Ballroom.