Sports panel focuses on media influence
Four prominent figures in intercollegiate athletics spoke about the ethical issues athletes, coaches and administrators face.

By Gabe Wicklund

Reality TV is one of the most popular kinds of shows on television, but "the real reality TV is athletics," NCAA President Myles Brand said Thursday at a panel discussion on sports ethics.

People like to see others compete in strange situations, and that is what is compelling about athletics, Brand said. The prevalence of media has dramatically changed intercollegiate athletics, he said.

"I think there has been a dramatic change in intercollegiate athletics and the way college is affected within approximately the last decade, and the reason for that, really, is the explosion of media," he said.

Brand was part of a forum called Ethical Issues in College Athletics that also featured University of Texas at Austin football coach Mack Brown, Ohio State University athletics director Andy Geiger, and former Southeastern Conference Commissioner Roy Kramer. The event was moderated by Dutch Baughman, executive director of Division I-A Athletic Directors' Association.

Nearly a third of Daniel-Meyer Coliseum was filled with observers, mostly from the community.

Brand said media emphasis is put on fraud and misconduct in athletics. He said the variety of mediums and their desire for content has given publicity to things that may have been overlooked in the past.

Brand alluded to former Alabama football coach Mike Price. Price was fired after a scandal over his attendance at a topless bar.

"In the past, it probably would have never been found out," Brand said. "So it's not so much that the ethical challenges have been newly created, but rather that a lot of it has been much brighter than ever before."

Geiger said ethical decisions are being made in a different light and news can expose mistakes more quickly.

"I think that it is really, really important when you have such a really large, impactful decision to make to surround yourself with the right stakeholders," Geiger said, "and to keep your group advising you very, very small and make sure stakeholders are stakeholders for the right reasons."

Kramer said leaders in intercollegiate athletics cannot base their decisions on the media's enormous spotlight. They need to act independently, he said.

"Sometimes in order to make ethical decisions we have to almost react in a vacuum to understand what is right and to do what is right without overreacting," Kramer said.

Brown said it is important for athletes not to look to the Internet, newspaper or TV for advice. They should look to four or five people with integrity they respect, he said.
Integrity is "doing the right thing not because the circumstances demand," Brand said. "Not because there are your interests or other interests at stake, but because it is the right thing to do."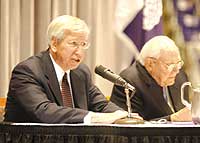 Ty Halasz/Staff Photographer
NCAA president Myles Brand, with former SEC commissioner Roy Kramer, weighs in on ethical issues in collegiate sports Thursday night in Daniel-Meyer Coliseum.