A return to the Run DMC
Lady Frogs are tearing up the court

In some circles, Daniel-Meyer Coliseum is known as the Run DMC. It is uncertain how far those circles extend, but it is an interesting name deserving of some exploration.

First and foremost, it is an obvious reference to the ground breaking rap group, but as far as anyone can tell, Horned Frog fans of the "Billy Ball" era, place emphasis on the word 'run'.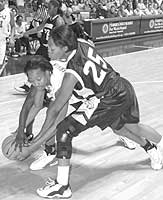 Ty Halasz/Staff Photographer
Junior forward Sandora Irvin and the Lady Frogs are ruling their roost at Daniel-Meyer Coliseum, but not many fans have been there to see it.