A return to the Run DMC
Lady Frogs are tearing up the court

By Carlos Alvarado
Commentary

In some circles, Daniel-Meyer Coliseum is known as the Run DMC. It is uncertain how far those circles extend, but it is an interesting name deserving of some exploration.

First and foremost, it is an obvious reference to the ground breaking rap group, but as far as anyone can tell, Horned Frog fans of the "Billy Ball" era, place emphasis on the word 'run'.

In the late 1990s, the TCU men's basketball team was scoring points at a profane rate. You dared not stand up to buy nachos or use the facilities, because if you just turned your head to talk to a friend, you would miss a Lee Nailon dunk or a Mike Jones 3-pointer. The coliseum would be so full on some nights that the collective body heat, accompanied by its heating system, turned it into the largest sauna in Fort Worth.

In 2004, a new group of basketball players take center stage in the Run DMC, and they don't fail to provide a great game of basketball. They carry the banner for TCU's basketball program, but this time, the coliseum relies solely on its own heating system.

Barring a major catastrophe, this year's Lady Frogs are on their way to the NCAA tournament for the third consecutive year, and unlike the football team, they face some of the nation's best teams. They are battle tested, experienced, and have shown the ability to beat any team in the country.

On Friday night, their opponent, the Tulane Green Wave, scored only six points in almost 11 minutes. On Sunday afternoon, the Southern Miss Golden Eagles scored only nine points in 11 minutes. Both teams should have just called it quits, but they had nothing to be embarrassed about. No one was watching them play, so why would they give up?

If it wasn't for the TCU band reminding them how at one point senior guard Kim Ortega had outscored the entire Tulane team or the dozens of high school girls screaming at the top of their lungs every time Tulane or Southern Miss attempted a free throw, it would have been better off to play the game in the TCU Recreation Center.

One doesn't have to be a basketball fan to enjoy the Lady Frogs play. They put the "Run" and the "D" in Run DMC.

Junior Forward Sandora Irvin is rewriting record books with every game she plays and is one of the best low post position players to ever play at TCU. She will forever be mentioned with the likes of Kurt Thomas and Lee Nailon.

As a team, this years Lady Frogs are the best basketball team to ever play on a TCU court, and are arguably TCU's best sports team this year.

This team has a chance to win a national title, provided they can find a way to stop turning the ball over so much and make free throws at a rate better than 66 percent.

The Lady Frogs have proven they don't need us there to win basketball games. They have all the fire, spirit and tenacity within themselves, but wouldn't it be nice if they could use some of ours for a change?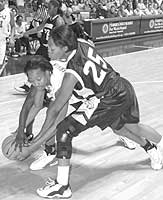 Ty Halasz/Staff Photographer
Junior forward Sandora Irvin and the Lady Frogs are ruling their roost at Daniel-Meyer Coliseum, but not many fans have been there to see it.
2003-2004 Women's basketball
home attendance
| | | |
| --- | --- | --- |
| Date | Opponent | Attendance |
| Nov. 21 | Southwest Texas State | 1,825 |
| Dec. 2 | Texas Arlington | 2,131 |
| Dec. 6 | Arkansas | 3,495 |
| Dec. 29 | Lamar | 3,102 |
| Dec. 31 | North Texas | 3,025 |
| Jan. 2 | Tennessee | 6,949 |
| Jan. 6 | New Mexico State | 2,206 |
| Jan. 18 | Houston* | 4,235 |
| Jan. 23 | Louisville* | 2,955 |
| Jan. 25 | Cincinnati* | 3,326 |
| Feb. 6 | Tulane* | 3,002 |
| Feb. 8 | Southern Miss* | 3,657 |
*denotes a Conference USA game

Daniel-Meyer Coliseum capacity crowd: 7,201

2003-2004 total attendance: 39,908
2003-2004 average attendance: 3,325
Percent of seats filled: 46 percent

Non C-USA average attendance: 3,247
C-USA average attendance: 3,435