Going 'retro'

Good fashion does not only apply to women. Men also need to be paying attention to what they wear. While walking around campus I can spot at least 20 poorly dressed males who are guilty of nothing more than having a poor knowledge of fashion. It seems no one ever informed them on what to wear and how to wear it. For these lost souls I have a few pointers for you.

Gentlemen, you must give your toenails some attention. If you make the decision to wear flip-flops even though it is 30 degrees outside, at least make sure your toes are not harvesting a yellow-like fungus and your toenails are not inching over the edge of your Reef sandals. The same applies to your fingernails, black grime under the nails … not cool.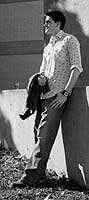 Sarah Chacko/Photo Editor
Clean-cut meets casual: Good fashion doesn't rely on polos and khakis but on the snazzy details. Wide-band arm accessories compliment any outfit without looking feminine. Pearl snap shirts and simple patterns add class to vintage style.