Fresh Frogs top Golden Eagles
Behind a career night from Marcus Shropshire, the Frogs blew Southern Miss out of Daniel-Meyer Coliseum.

A little bit of rest proved to be the perfect medication for the Horned Frogs Wednesday night.

Eight days removed from their last game, junior guards Marcus Shropshire and Corey Santee took full advantage of their fresh bodies, combining for 48 points to lead the Frogs (7-10, 3-3 Conference USA) past Southern Mississippi 79-67 at Daniel-Meyer Coliseum.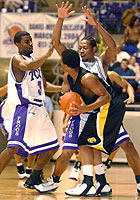 Ty Halasz/Staff Photographer
Juniors Corey Santee and Aaron Curtis double team a Southern Miss defender Wednesday night in Daniel-Meyer Coliseum. The Frogs won 79-67.