Fresh Frogs top Golden Eagles
Behind a career night from Marcus Shropshire, the Frogs blew Southern Miss out of Daniel-Meyer Coliseum.

By Brent Yarina
Sports Editor

A little bit of rest proved to be the perfect medication for the Horned Frogs Wednesday night.

Eight days removed from their last game, junior guards Marcus Shropshire and Corey Santee took full advantage of their fresh bodies, combining for 48 points to lead the Frogs (7-10, 3-3 Conference USA) past Southern Mississippi 79-67 at Daniel-Meyer Coliseum.

"I liked getting the time off because as a group we needed some time to regroup and just look at what was ahead of us," Santee said.

Shropshire agreed the time off was beneficial for the team because it allowed the Frogs some time to just relax and get back to playing their brand of basketball.

"Eight days off was nice for us so we could relax and rest a little bit," Shropshire said. "(The break) let us just sit and think about what we needed to do tonight. Coach stressed a lot about playing hard and playing with a lot of confidence and that's what we did tonight."

Based on these two Frogs' performances, the confidence level appears to be sky high.

Shropshire scored a career-high 29 points, shooting 8-of-19 from the field, and Santee put in another all-around performance with 19 points, three rebounds and eight assists against a Golden Eagles team that was bigger than the Frogs at every position.

Santee's eight assists were impressive, but it was his ballhandling — he had zero turnovers — that prevented USM from making any sort of serious comeback.

The Golden Eagles had only one lead the entire night, which lasted a total of 46 seconds, at 2-0. That lead was quickly erased by a Chudi Chinweze jumper and a Nucleus Smith layup, however.

And with 18:27 remaining in the first half, the Frogs took their first lead of the game, a lead they would never relinquish.

Head coach Neil Dougherty also credited the team's eight day rest to his players' performances Wednesday night.

"(The long break) is unusual," Dougherty said. "It's only bad if you're playing well. Well, we weren't playing well, so we worked with Santee and tried to get him shooting the ball better.

"He wasn't playing great basketball. I have to cut his minutes back so he can stay fresh. I got to do a better job of that."

The Frogs may have been in control the entire game, but they could not keep the bigger and stronger Golden Eagles' star players from having big nights.

Senior forward Charles Gaines, who entered the game averaging 14.8 points and 9.8 rebounds, collected a double-double, scoring 20 points and grabbing 14 boards.

Sophomore forward Jasper Johnson presented matchup problems for TCU all over the court, too. He put in his best statistical game of the season with 22 points and nine rebounds.

Despite giving up these two big performances to USM, the Frogs say they just want to savor this victory, which put them at .500 in C-USA, for a few days.

"It's real good," Santee said. "It's fun. We have as many wins right now in conference than we did all last year."

Dougherty said he wants his players to enjoy this victory but that they must get back to the practice floor so they can prepare for a talented Memphis club Saturday afternoon.

"We're going right back to work," Dougherty said. "We have a few miles left to catch up to the top teams in the conference."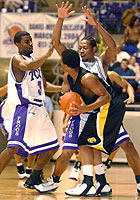 Ty Halasz/Staff Photographer
Juniors Corey Santee and Aaron Curtis double team a Southern Miss defender Wednesday night in Daniel-Meyer Coliseum. The Frogs won 79-67.