Shropshire brings experience to TCU
Thanks to Bobby Knight's offensive system, Marcus Shropshire arrived at TCU and is reaching his full potential.

Bobby Knight may have 819 career victories, but for Marcus Shropshire, one year of basketball under the General at Texas Tech University was enough.

And he says the decision to leave Knight and Tech after his freshman year was not because of the coach's infamous fiery temper or overbearing personality.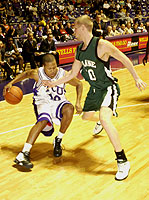 Ty Halasz/Staff Photographer
Junior guard Marcus Shropshire has nothing against Texas Tech, he just likes TCU's fast-paced offense and its proximity to his home town, Grand Prairie.