Shropshire brings experience to TCU

Thanks to Bobby Knight's offensive system, Marcus Shropshire arrived at TCU and is reaching his full potential.

By Brent Yarina

Bobby Knight may have 819 career victories, but for Marcus Shropshire, one year of basketball under the General at Texas Tech University was enough.

And he says the decision to leave Knight and Tech after his freshman year was not because of the coach's infamous fiery temper or overbearing personality.

In fact, Shropshire has nothing but praise for his former coach.

"He's a great coach and a great guy," the junior guard said. "I enjoyed the time that I played for him."

So why then is Shropshire in playing basketball Fort Worth and not Lubbock?

"I feel that I couldn't reach my full potential if I kept playing at Tech," he said. "I came here because of the style of the play. And also because of the coaches.

"I'm from Grand Prairie also, so I got to be close to home and my family. I always wanted to head back this way."

Whatever the reason he chose to transfer to TCU, the Frogs are just happy Shropshire is a member of their team now.

"He's great for our team on and off the court," junior guard Corey Santee said. "He's a great guy who fits in well with the rest of the team and can give off a spark that really helps the team get going."

Head coach Neil Dougherty said Tech's loss has been the Frogs' gain
"His joining the team adds quite a bit," Dougherty said. "He gives the team an offensive threat and improves the team's performance. He's obviously added many dimensions to our game and makes other teams worry about who's going to cover Shropshire."

Senior guard Nucleus Smith agrees Shropshire's arrival has benefited the team, but he said that it has also been beneficial to the transfer's game.

"By being here he can play more of his style of game and play more to his ability," Smith said.

Smith said the intensity Shropshire brings to both the practice floor and game situations is Shropshire's best attribute.

"He's a veteran and knows how to bring the intensity needed for practice and the intensity needed for when we play a game," he said.

Shropshire said he is happy he has been able to provide veteran leadership for the Frogs, especially since the team is so young.

"I think I bring some experience to the team, coming from the Big 12," he said. "Also, I feel my age brings some things to the table. This is a young team, and I try to lead by age and example."

As for any comparisons between Knight and Dougherty, Shropshire said the two coaches actually have many qualities in common.

"Both are very focused on winning and are intense in the way they coach," he said. "The main difference is really just control. Knight's an intelligent man, but he tends to be a little more excited."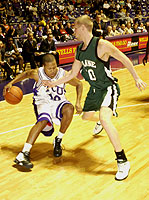 Ty Halasz/Staff Photographer
Junior guard Marcus Shropshire has nothing against Texas Tech, he just likes TCU's fast-paced offense and its proximity to his home town, Grand Prairie.