Student Government provides experience

By Holly Johnson
Staff Writer

Student Government Association members are once again in agreement, but this time it's personal.
Being part of SGA, members say, will undoubtedly help their future endeavors and prepare them for whatever lies beyond TCU.
"It's a great learning experience," said sophomore political science and criminal justice major Ben Dalton. "It's a great place to see how democracy really works."
Dalton was a member of SGA for a year, but had to drop out due to a schedule conflict. He admitted that the year was well-spent, though, and believes he already has a good idea of what to expect when taking part in politics on a national level.
For example, he ran a campaign in his dormitory to be elected to SGA, much like politicians who campaign in their constituencies to be elected to the U.S. government. When considering a bill, he could not forget that his vote represented all of Brachman Hall; like national politicians, SGA members may not return the following term if their constituents are not satisfied.
Even the simple act of passing a bill gives a great idea of how politics work, Dalton said. SGA follows a procedure that mimics that of the nation by proposing a bill, debating it and voting on it.
SGA President Jay Zeidman, a junior political science and economics major, also said political experience was one of the major benefits. He explained that his time with the organization teaches him to be a better listener and will help him once he enters law school.
"I work with the staff, the faculty, the students," he said. "I've always been a people person, and this helps sharpen my skills."
Beyond the political implications, members still recognize the advantages of SGA. Since TCU is a fairly small campus, there is an opportunity to do a significant amount of hands-on work and participate in important discussions.
"It's not like you sit around and decide where a Coke machine will go," Zeidman said. "We definitely make some big decisions, and we definitely make a difference on campus."
Alison Spannaus, a junior political science major, who has been involved with SGA for two years, noted the benefits of learning the intricacies of an organization.
Being familiar with goverment procedure, finances and the concept of "red tape" places her ahead of many students who plan to enter the business field or work in a government position.
In her time at TCU, she has written and edited bills, allocated money to various SGA activities and discovered what it takes to compromise. Barriers may stand in the way of an idea, but she is learning to work with others to overcome them.
"Not only can I envision something now," Spannaus said, "but I know what it takes to make that vision a reality."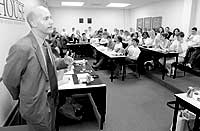 Ty Halasz/Staff Photographer
Chancellor Victor Boschini makes his first formal introduction to the Student Government Association during a meeting this year.