Lorimer: Loyal member awarded

By Beth Sims
Staff Reporter

Unconditional, impacting, hard working, dedicated, loyal, determined and organized.

Any organization would be lucky to have a member embodying these qualities. Student Foundation lucked out with senior accounting major Megan Cederburg.

Hallie Lorimer, Assistant Director of Alumni Relations and the director in charge of the Clifford Curtis Outstanding Student Foundation Member Award used each of these words to describe Cederburg.

"Megan has made an impact on Student Foundation, but she has done so quietly and unconditionally," Lorimer said. "She has dedicated many hours and gone beyond anyone's expectations."

The Student Foundation was organized for the general purpose of enlisting and motivating outstanding TCU students to promote the welfare of the university. The Foundation's activities include fund raising, student recruitment and alumni relations.

After Clifford Curtis' death in 1998, his family sought a way to honor his memory that would also reflect his uplifting and encouraging spirit, Lorimer said. The decision was to honor an outstanding member of Student Foundation.

While attending TCU, Curtis was the president of Student Foundation in 1980.

Cederburg was honored with the Clifford Curtis Award and Scholarship in December, during the annual Student Foundation dinner after a committee, made up of staff members, reviewed the applications.

Cederburg served as director of membership, which includes maintaining the record of absences, by-laws and roster.

"I have worked hard to make this a great and successful year for Student Foundation," Cederburg said. "We worked to bring Student Foundation to a new level, where every member was dedicated."

Megan liked the relationships her position offered her, she said.

"My favorite part of my involvement is getting to interact with the people in the organization," Cederburg said.

Cederburg has taken this dedication beyond her involvement in Student Foundation. Confident, but humble, Cederburg explained the laundry list of organizations she has been involved in; Mortar Board, Orientation Student Assistance, Kappa Alpha Theta, Neely Associate, Connections mentorship, Ro Gamma and several honors societies. Cederburg's early representation of leadership came when she was a freshman and served as the president of her dorm, Sherley Hall.

Cederburg's attitude about her involvement reflects the description of Curtis' "uplifting and encouraging spirit." A fellow member of Student Foundation describes Cederburg as, "always willing to help others, she is positive, never without a smile."

Cederburg takes great responsibility in the organizations she is a part of.

"I always try to represent TCU in the best way possible," she said. "It's important to give a positive impression of what you represent both inside and outside the organization."

Inside the organization, Cederburg leads by example, and motivates through participation.

"I like to do the best job I can with whatever I'm given," she said.

Often this means doing "not just the bare minimum, but to go above and beyond," Cederburg said.

"Just as Clifford [Curtis] was known for his hard working attitude, Megan was described as jumping right in taking on extra responsibilities," Lorimer said. "And going beyond the call of duty without complaining."

Cederburg will graduate in May with a degree in accounting. She plans to attend graduate school for public accounting at either TCU or Notre Dame.

Her leadership at TCU has taught her many things about herself and team building skills that will help her after graduation, she said.

"I've learned that a leader should be responsible, take initiative and do not what's easy, but what's right," she said.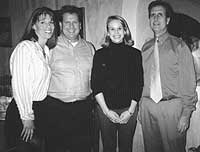 Special to Skiff
Megan Cederburg (middle in black), a senior accounting major and winner of the Clifford Curtis Outstanding Student Foundation Member Award, stands with Clifford's brothers — Nicole and Chris (left of her) and Wiley (right).