Honors convocation awards students, prof

By Liddy Serio
Staff Reporter*

Recipients of the TCU Honors Scholar Award, Phi Beta Kappa electees and the Honors Professor of the Year were recognized at the 42nd Annual Honors Convocation, which included a speech from Princeton University professor Alexander Nehamas.

Peggy Watson, director of the Honors Program, announced the recipients of the Honors Scholar Award and Chancellor Victor Boschini announced the Phi Beta Kappa electees and honored them for their tremendous academic achievement.

"This is the most prestigious award available for college students, and TCU is one of the select schools in the nation with a Phi Beta Kappa chapter," said Boschini before he announced the three juniors, twenty seniors, and fifteen students who were elected into the society.

The keynote speaker, Nehamas, is a scholar of philosophy and professor of Humanities and Comparative Literature at Princeton University. He spoke on Socratic ideals as well as Socrates' quest to discover the best life possible.

"Socrates' life was a dismal failure by Athenian standards," Nehamas said. "But it is his failure that has transformed him into a hero."

In the end, the key to the best life is in the search itself, Nehamas said.

"Socrates was able to spend his life in search of the good life because society could create a space for his questions, and today that place is the university," he said.

Nehamas emphasized that like Socrates, we must acknowledge our ignorance in order to gain knowledge, and that confusion and doubt are important in obtaining wisdom.

"There is no better place to begin than questioning the nature of education and the significance of goals," he said. "Confusion and doubt may truly belong to the best years of our lives."

Nehamas received a standing ovation upon finishing his speech.

"I thought he was phenomenal," Boschini said. "He took a complex subject and applied it to a broad audience consisting of faculty, staff, students and parents."

Chris Schaun, a sophomore entrepreneurial management and marketing major, said he couldn't agree more.

"I'm a business major and I love this stuff," he said.

But the standing ovations were not over yet.

Blake Hestir, an assistant professor of philosophy, received the 2004 Honors Faculty Recognition Award, elected every year by honors students. Hestir was already on-stage because he introduced the guest speaker and was surprised to receive the award and the standing ovation that came with it.

Schaun said Hestir deserved the award because he cares so much about students.

"He'll be as big an influence in your life as you want him to be," Schaun said.

* This story appeared in the April 1 edition of the Skiff.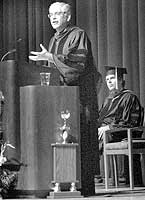 Sarah Chacko/Photo Editor
Princeton University professor Alexander Nehamas delivers his keynote address at the 42nd Annual Honors Convocation April 1 in Ed Landreth Hall.