On-campus jobs offer students new opportunities as well as money

By Laura Pipe
Skiff Staff

Walking through the entrance of Brachman Hall is a pleasant experience, as you come upon a friendly face sitting behind an office desk. The pleasant experience is a standard in every residence hall on TCU's campus, as the halls depend on student workers to help run the building.

Many of the buildings on campus are in similar positions. The Mary Couts Burnett Library and the Recreation Center both depend on student workers to keep the buildings open in the evening and on weekends.

Student-employees reap benefits from working on campus as well.

"All the studies show that students who work do better in school, than those who don't," said Bill Stowe, associate director of Career Services.

The Student Employee Handbook supports Stowe's claim, listing the benefits of a higher GPA, building networks, learning to set priorities, gaining self-confidence and building organizational and time management skills.

The most economical place for a freshman to have a job is on campus. TCU employs about 1,300 student workers a year. The jobs range from clerical and customer service positions, such as jobs in Government Information in the library, to jobs with professors around the campus.

Students are encouraged to seek jobs in their interest areas, giving them an opportunity to gain experience within a field. The best way to find a job is by contacting faculty within the department of interest. If a student has an interest in physics, they should contact the physics faculty to possibly locate a research job. Another good resource is the TCU Career Services Web site, which can be accessed from TCU's homepage. The Web site lists hundreds of on campus and off-campus jobs. Career Services can also help students to locate jobs on campus.

The first two weeks of school are a great time to find an on campus job. Most departments are looking for work-study students, but those who are non work-study should not be discouraged. Stowe said many jobs that were work-study only, open up to everyone after about two weeks of classes, because departments need the student help.

The reasons for hiring a work-study student are economical. The Federal Work-Study program is a need-based program provided by the United States Government. The program allots students a certain amount of Federal money, which will be paid to them in return for working on campus.

After being hired, the student should consider class commitments before taking the job. Stowe suggests starting work at 10 hours a week, until the student-employee has a sense of class commitments and extra-curricular commitments.

"Before considering getting a job this year, I looked to see how much schoolwork I would have and the amount of time it would I would have to spend on that. I also looked at whether I would be able to have any free time for myself, if I did decide to get a job," said James Boone, a freshman pre-business major.

Stowe said freshmen are encouraged to get an on-campus job. He sites a number of reasons why an on-campus job is effective for first year students: already being on campus, not needing large blocks of time and students can get to know the campus, as well as the people who work here at TCU.

"I like working on campus because it helps networking options and getting connected to TCU faculty and staff," said Laura Israel, a freshman vocal music education major.

On campus pay is generally minimum wage, while off-campus jobs offer a higher pay. Some departments will increase pay rates if a student returns to the job the following school year.

Advantages to on-campus jobs out-weigh the disadvantages for many students. The biggest advantage is scheduling. Off-campus jobs require about a five hour block of time, where on campus jobs can schedule a couple hours between classes and around holidays.

When asked why she took an on-campus job, freshman theatre major, Laura Smith, replied, "I thought an on-campus job would be a little more understanding of the fact that my classes come first and work easier with my schedule."

Students are not required to work on holidays when the university closes. The university also allows students to have time off during exam week.

For most students, a job is a great way to get extra money while broadening their work experience. But for the university, student-employees are a necessity in the day-to-day operation of the campus.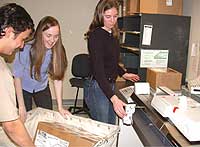 File Photo
Sorting and filing mail is only one of several jobs students can get on campus.