New baseball stadium encourages team

By Janelle Stecklein
Skiff Staff

The TCU Baseball team will finish its second season in its new, state-of-the-art stadium this summer.

Charlie and Marie Lupton Stadium is located off Bellaire Drive, next to the Friedman Tennis Center.

The new stadium cost $7 million to build and seats about 2,200 fans.

The stadium officially opened Feb. 2, 2003 to an overflow crowd of 3,105, according to www.gofrogs.com.

Both the players and coach said they like the new stadium.

Senior second baseman Ramon Moses said the stadium is much better than the previous one.

He said the new stadium is "one of the best in college baseball" and creates a "good environment to practice and play baseball."

Junior pitcher Chad Underwood said, "It's a whole new world."

Underwood said it is a joy to come and practice at the new stadium, but also said the new coaching staff is another benefit.

"They bring new life to the team," he said.

Coach Jim Schlossnagle, who is beginning his first year at TCU, said the field represents commitment by the school, and it is good to play and work for a school that is committed to its program.

Also, the stadium has been a "great experience for players and is helpful in recruiting," Schlossnagle said.

Freshman pitcher Omar Arif said he chose to play baseball for TCU because he likes the facilities and it is close to home.

"I wanted to go somewhere with a good school as well as a good program," Arif said. "The stadium is a wonderful place to watch college baseball."

The recruiting class is currently ranked No. 9 in the country and has signed 13 players so far, but Schlossnagle said he is always looking for more talent.
This year, TCU has had some standout freshmen join the team.

Schlossnagle said that freshmen German Duran, Shelby Ford and Chad Huffman lead the team in hitting and are at the top of the batting lineup.

The young players on the roster are one of the reasons Ramon Moses encourages people to come to games. He said TCU has one of the best coaching staffs in the country and one of the best facilities. He thinks these will all impact the team next year.

Schlossnagle said the fan base has "tremendous potential," with a lot of alumni within a hundred-mile radius of TCU, but he feels that the program still needs to improve and win more games in order to increase attendance.

"The team has heart, and goes out to compete and win games," Moses said.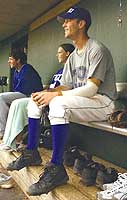 File Photo
Freshman third baseman Shelby Ford takes a break from practice to cheer on his teammates at Lupton Stadium.