Lady Frogs finish season strong

By Shawn Finer
Staff Writer

Injuries often plague great athletic teams, and tough losses tend to stop a great team's momentum.

This is true for most sports teams, but it's not the case for the No. 20 Lady Frogs' basketball team.

The Lady Frogs had their best season yet with a 27-7 record and a second round appearance in the NCAA tournament. This marks the Lady Frogs' fourth-straight NCAA tournament bid, as well as the fourth successive appearance into the second round.

Head coach Jeff Mittie is in his fifth season with the team. After his first season at TCU, he has not allowed the Frogs to have fewer than 20 wins in a season.

Injuries weighed the Lady Frogs down, but their determination kept them from staying there. Senior forward Tiffany Evans said the greatest accomplishment of the team was its unity.

"We really came together as a team, through good times and hard, and were able to excel in all our games," Evans said. "When there were injuries and players that were unable to play, the rest of the team came as one."

The 2003-2004 Lady Frogs made one of the best starts in TCU women's basketball history with eight straight wins. The Rutgers University Scarlet Nights handed the Lady Frogs their first loss nine games into the season.

In conference play, the Lady Frogs ended the regular season with an 11-3 record in Conference USA. The Lady Frogs placed second overall behind Houston. One of TCU's toughest losses came from the Lady Cougars in the C-USA championship game.

Entering the NCAA tournament, the Lady Frogs defeated Temple in a 70-57 win. In the second round, TCU played a hard-fought game against Georgia Tech. The Lady Frogs made a close comeback but couldn't overcome the deficit in the final minutes and lost 71-85.

This season has allowed for even stronger recruiting as TCU women's basketball becomes better known throughout the nation. Evans said TCU has a better chance of recruiting great players for years to come.

Much of the team consists of very talented underclassmen. Junior Sandora Irvin, who was named Associated Press Honorable Mention All-American, will return next year. Irvin has set single-season records with 504 points, 366 rebounds, 195 field goals made and is only 68 points away from being the all-time leading scorer in TCU women's basketball.

Only five players graduate in May, while nine others are returning next season.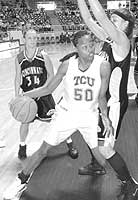 File Photo
Junior forward Sandora Irvin became the all-time leading rebounder at TCU during the Cincinnati game Jan. 25.