Energy and expectations high for the upcoming 2004 football season

By John Ashley Menzies
Skiff Staff

It's Horned Frog football y'all.

That's at least what we like to say around here.

The Frogs came out of their fifth straight ten-win season. They also made a slight dent in the armor of the Bowl Championship Series by becoming the first school outside of a BCS conference to break into the BCS rankings.

It was a special year, said TCU head football coach Gary Patterson.

"It's special anytime you can win ten games, especially when they are tough games and you can get through 21 surgeries," Patterson said.

Injuries would be the theme of the 2003 season. TCU saw players go down at practically every major position, including losing starting quarterback Tye Gunn.

The Frogs leapt out to a perfect 10-0 record at the beginning of the season with senior Brandon Hassel taking over for Gunn after his injury.

"It was exciting just being apart of it," Hassel said. "Watching how Fort Worth accepted everything and how the crowds showed up."

But that was where the fairytale ended. The Frogs lost a heartbreaker of a game in Hattiesburg, Miss., to the Golden Eagles of Southern Mississippi.

Even though the story was over, there were many moments to remember from the season, Patterson said.

"Really any of the five three-point games were memorable," Patterson said. "But the most special was losing to Southern Miss, getting knocked out of the BCS and then coming back and beating SMU. That was a real credit to our kids."

The Frogs concluded the season at No. 19 in the country and even caused a stir by turning down an invitation to the GMAC Bowl in Mobile, Ala.

Instead of playing in Mobile, Ala., again, the Frogs stayed home and fell short in the first Plains Capital Fort Worth Bowl to Boise State. TCU closed off the season with an 11-2 record.

With the season behind them, TCU is poised and ready to look toward next season. Senior safety Jeremy Modkins said the defense is back and playing really well this spring.

"We came up a game short last season," Modkins said. "So, that just really motivates us to do more next season."

TCU will open the new season Sept. 2 on ESPN against Northwestern.

Many people consider TCU a "one-and-done" and think last season will be the last the nation hears about the Horned Frogs. Patterson said he feels that is not the case.

"Well I don't know how anyone can say one and done," Patterson said. "We've won 10 games the last five years and have been in the top 25 the last two years. Bottom line is, as a coach, right now our biggest enemy is our self."

Hassel said fans can expect the same type of TCU football they have gotten used to watching.

"We just need to go out there every week and play our hardest," Hassel said. "Go out there and put on a show and put up winning numbers like we have."

Patterson said it's too early to see how the team will perform but that the team is preparing and will be ready for Northwestern in September.

"We put a lot of work into what we do," Patterson said. "And everyone receives recognition for success. It doesn't just go to the football team, but to the whole university."

Next season will be something to watch. CBS Sportsline has TCU ranked No. 10 in the country in a pre-season poll, so expectations are already high for this team.
Modkins said, "Fans can expect a lot of excitement."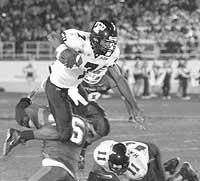 File Photo
Junior quarterback Brandon Hassell makes a run to gain yards Dec. 23 at the Plains Capital Fort Worth Bowl. The Frogs lost to Boise State 31-34.