Dining Services makes life easy

By Suryon Pak
Skiff Staff

Being a freshman is an exciting experience. You make new friends, go to parties, join a student organization and, of course, study. Food however, is just as important in college life.

As a freshman, you have to live on campus, meaning you often eat on campus. Well, actually, with a $1,000-meal-plan per semester, you might feel that you are almost forced to eat on campus most of the time. But don't be so desperate. TCU won't disappoint you.

First of all, the required meal plan is not as outrageously expensive as it seems. It actually breaks down to about $9 a day. It might still look like too much for some students who often go off campus to eat, but for students without car, it seems to be an adequate plan.

The best thing about the meal plan is its convenience. All students need is an ID card. Just give it to a cashier, he or she will swipe it, and students are good to go. Everything will only take a minute.

Currently, TCU has 10 dining locations with different characteristics and they offer a variety of choices on how to spend $9 a day. Hamburgers, salads, pastas, tacos, hot and cold subs, Starbucks coffee, Krispy Kreme doughnuts and sushi — TCU has them all. The 10 locations include: The Main, Frog Bytes, Edens, Deco Deli, Sub Connection, Jazzman's Café, Bistro Burnett, Pond St. Grill, Café a la cart and NRG.

The Main is located in the Student Center and is the central dining location at TCU. Many students gather there to enjoy a meal with their friends. The Main has several different sections. For instance, you can always get hamburgers at the Sunset Grill and pasta at Al Dente, while the Main Skillet and the Main Grain have a variety of specials everyday.

The most convenient dining location is probably Frog Bytes, which is located next to the Main. It is open until 2 a.m. during the week, so when students are studying late, it's the place to go. At Frogbytes, pizza, pretzels, cold subs, and sushi are among the choices.

Edens, located in the lower level of Reed Hall, offers Mongolian cuisine and salads. Students can customize their wok or salad, choosing meat, toppings and sauce. Then, the chef will cook them in front of the customer.

Deco Deli is located next to Edens, and it serves sandwiches in five steps. Step 1: choose bread; Step 2: choose meat; Step 3: choose cheese; Step 4: choose spreads; and Step 5: eat up!

If students spend lots of time on east campus, Sub Connection and Jazzman's Café are conveniently located.

Sub Connection, located in the Sarah and Steve Smith Entrepreneur's Hall, offers cold and hot fresh subs. Choices range from six combos with chips and a drink. The price ranges from $3.69 for a meatball sub combo to $4.79 for a ham and cheese sub combo.

Jazzman's Café, on the other hand, has relatively high prices. Carla Rivas, a worker at Jazzman's Café, said the coffee they offer is more expensive than the Starbucks coffee that Frogbytes offers, but it's better. It also has cold sandwiches, wraps and salads. The decoration is modern and the sound of jazz is relaxing. It's great place to go to take a short, quiet break.

Pond St. Grill and Café a la cart are located in the Worth Hills area of campus. A specialty at Pond St. Grill is the Sunday Night BBQ, where thehamburgers are juicy.

Bistro Burnett and NRG are kiosks located in the library and the Recreation Center. Bistro Burnett offers Starbucks coffee and snacks. NRG offers a quick bite, such as smoothies, energy bars and sandwiches.

Legia Abato, a district marketing manager of TCU Dining Services, said the dining services meets the students' Dining Services Committee, run by SGA, to hear students' voices every Tuesday.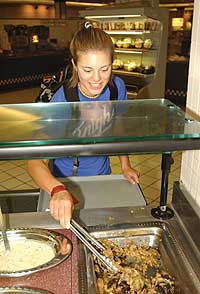 File Photo
TCU's campus eateries, like Sub Connection (above) and The Main (below), offer students a variety of food choices and places to sit down and eat or to grab a quick bite between classes.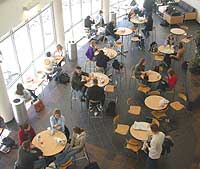 Holly Elder/Staff Photographer