Texan to affect local economy
Fort Worth officials say it will be hard to compete with the hotel and convention center in Grapevine.

Only a year ago, the Fort Worth Convention Center reopened after spending $75 million on expansion and renovations. Now Gaylord Entertainment has invested around $500 million to create The Texan, a unique hotel and convention destination resort in Grapevine.

Michael Woody, director of marketing for the Grapevine Convention and Visitors Bureau, believes Gaylord Entertainment has put this part of the United States on a different map, one for those who need extensive meeting space and rooms and who usually look toward Chicago or San Diego.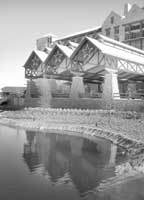 K.C. Jones/ Staff Photographer
The Texan, Grapevine's new hotel and convention center, is expected to attract business from around the nation.