Running through to victory
The Frogs used their home field advantage at the TCU Invitational Saturday.

The wind didn't hold back the track and field team from claiming 10 events and seven Frogs from qualifying for regionals.

The track team hosted the 5th annual TCU Invitational Track and Field Meet Saturday at the Lowdon Track and Field Complex. The home turf brought a crowd of 1,183.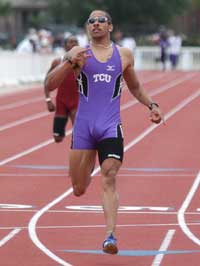 Stephen Spillman/Staff Photographer
Senior Jerry Harris finished first in the 400-meter dash with a time of 45.57. Harris is a three-time All-American and qualified for regionals with his run.