VIA committee discusses sports and the university
A town hall meeting focuses on developing athletic
programs that fulfill TCU's mission statement.

By Lacey Krause
Staff Reporter

Although the university's athletic programs have enjoyed remarkable success in the past five years, some university officials aren't satisfied with fan support.

"I'd be hard pressed to identify another unit on campus that has enjoyed that level of success in that time period," Bob Vigeland, Strategies for Athletics committee member and accounting department chair, said Wednesday.

Low student attendance at athletic events is a problem across the country, and TCU is no exception, said Davis Babb, associate athletic director for development.

"This is not just a football resurgence," Babb said. "This is across the board, and the apathy is still there. If now is not the time to support it, when is?"

Approximately 80 people, including students, faculty and staff, met Wednesday to discuss "Building a Stronger Team: Athletics and the University." The meeting was the fifth of six town hall meetings organized by Chancellor Victor Boschini's Vision in Action group. Boschini developed the VIA group to develop a three-to-five year plan for the university's future.

All students received an e-mail Tuesday inviting them to the meeting. The meetings were originally targeted toward faculty and staff, said Leo Munson, Strategic Planning Steering committee co-chairman.

"What we discovered in the first town hall meetings were that students were not only hanging around to listen, but also stood up to offer statements and testimony," said Munson, assistant vice chancellor for academic support. "We certainly don't want them to feel they were not included."

TCU does a great job of making sure athletes get an education, said Linda Moore, Faculty Senate liaison to the Coalition on Intercollegiate Athletics.

"We look incredibly good," said Moore, a social work professor. "I think you see that when you look at the graduation rate for athletes."

The Athletic Academic Services office does a good job of communicating with the rest of the campus, said Cheryl Cantu-Mireles, academic advisor for the Center for Academic Services.

"I really appreciate the fact that they're willing to work with other departments," she said.
Participants also discussed on-campus housing for athletes, a topic brought up via e-mail by Moncrief Hall Director Kyle Sherer. Student athletes may become better integrated into the campus if they are not concentrated in one residence hall, Sherer said.

According to NCAA regulations, residence halls can't be comprised of more than 50 percent athletes, said Marc Evans, director of athletics compliance.

"We have student athletes who live in almost every dorm here," he said.

Making student athletes part of TCU community is an ongoing process, said Neil Dougherty, the head men's basketball coach. Dougherty said he encourages players to greet their professors and peers when they see them on campus.

"It's a process that has to continue to be nurtured," he said. "It goes beyond where they sleep. It's where they interact every day."

Students with similar interests and needs could benefit from living together, especially during their freshman year, said Don Mills, vice chancellor for Student Affairs.

"We need to provide them with the kind of support they'll need to be successful," he said.

However, all students need to interact with other students from a variety of backgrounds throughout their college career, he said.

"The most successful experience will be one that allows them to have a diversity of experiences," Mills said.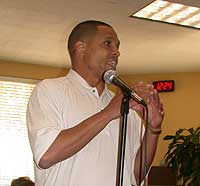 Sarah Greene/Staff Photographer
Neil Dougherty, the head men's basketball coach, speaks at a town hall forum on athletics.