Late inning heroics seal Frogs win
The Horned Frogs recorded their first victory over Texas-Arlington this season in the teams' third meeting.

Only the seventh inning stretch could interrupt Chris Neuman's flare for the dramatic Wednesday night at Lupton Stadium.

The senior first baseman ended Texas-Arlington's half of the seventh with a sparkling grab in foul territory and then led off the bottom half of the inning with a lead-off home run, giving the Frogs (20-14, 8-5 Conference USA) a 4-3 advantage they wouldn't relinquish.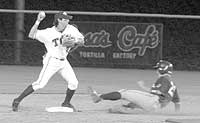 Stephen Spillman/Staff Photographer
Texas-Arlington catcher Dane Ryan is out at second as senior second baseman Ramon Moses pulls off a double play last night at Lupton Baseball Stadium.