Students saddle up for end-of-semester fun

By Marco Lopez
Staff Reporter

Goats, pigs and a one-ton longhorn named Gus were some of the animals walking around near Frog Fountain Wednesday evening.

Under clear skies and a yellowish-looking sunset, more than 300 students listened to country music, took pictures and spent time with at least 20 different animals during the Residence Hall Association Round-Up.

"It's our last big event of the year to let students enjoy the weather and relax," said Lauren Love, the association's vice president of historical records.

Love said the idea of bringing a petting zoo to the campus came up during an association meeting.

Students were impressed by the presence of so many animals on campus, especially by the friendliness of 12-year-old Gus.

"I live in Texas and I've never gotten that close to a longhorn," said Julie Christensen, a freshman business major.

Milton Daniel Hall Director Manuel McGriff said the association contracted Ponies & Pals, which is based in Hickory, to let students see a different event on campus.

Lisa Whaley, the owner of Ponies & Pals, said she usually takes her animals to birthday parties for young kids, churches and corporate events.

"I was surprised to see that the event was for college students," Whaley said. "I was expecting kids."

The association gave students free cake, snacks and pizza. McGriff said students had eaten 75 pizzas by 7 p.m.

Students ate pink cotton candy while waiting in line to jump on a blue air mattress.
McGriff said members of every residence hall on campus collaborated to make the event happen.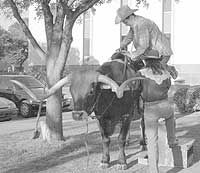 Sarah Chacko/Photo Editor
Freshman radio-TV-film major Wyatt Goolsby saddles up on Gus, a longhorn provided courtesy of Lonesome Longhorns, with a little help from owner Heather Reams at the Residence Hall Association's Round-Up.