Baseball team winds up for match against UTA

By Danny Gillham
Skiff Staff

After two disappointing losses earlier this season, the baseball team will try to avoid a season sweep against Texas-Arlington at 7 p.m. today at Lupton Stadium.

Head coach Jim Schlossnagle said his team obviously doesn't want to go 0-for-3 against the Mavericks this year, but a win today would count more toward the big picture — a chance to play in the College World Series.

"Every game is huge now," Schlossnagle said. "We of course want to win conference championships, but our ultimate goal is to make it to Omaha and to do that we need a regional bid."

TCU (19-14, 7-5 Conference USA) and UT-Arlington (21-14 heading into last night's game) may be competing for a regional bid later in the season. The Frogs are No. 37 in the latest Pseudo-RPI's published by Boyd Nation, but with similar records, a bid may get decided on head-to-head matchup.

"The committee really looks at what you do down the stretch," Schlossnagle said. "If we let (UT-Arlington) sweep us, that could be a deciding factor in us playing in the postseason."

Freshman infielder Chad Huffman said the Frogs want some revenge for their two earlier losses.

The Frogs could only muster three hits in an 11-0 loss on Feb. 17, and lost a five-run lead late in an 8-7 loss on March 7. Both games were played at Clay Gould Park in Arlington.

"They're a cross-town rival, and for us to play like we have against them is unacceptable." Huffman said.

Senior infielder Chris Neuman said the Frogs haven't played their best against the Mavericks this year, and need to get some momentum going to finish out the season.

"They've hurt us pretty bad," Huffman said. "After losing a close one to Cincinnati on Sunday, we can't allow ourselves to have another letdown."

Freshman Chase Perry will get the start on the mound for the Frogs today. Perry's last appearance was Friday against Cincinnati, pitching two scoreless innings. He also made his collegiate debut against UT-Arlington, surrendering three runs without recording an out.
Schlossnagle said Perry doesn't have to pitch deep into the game.

"We are going to see what he can do, but if he can get us through their lineup once that would work," Schlossnagle said. "We have some guys that haven't pitched in a while that need to throw anyway."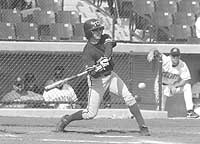 File Photo
A win today against the Texas-Arlington Mavericks could give the Horned Frogs a chance to play in the College World Series.