Dressed for basketball success
The Horned Frogs' Neil Dougherty was voted the nation's best dressed coach.

By Brent Yarina
Sports Editor

Even after Neil Dougherty picks up his laundry from the dry cleaners he is never fully satisfied.

The second year head coach says he insists on ironing and re-ironing each one of his shirts for wrinkles the cleaners missed before he'll consider wearing it.

"I don't like wrinkles," Dougherty said. "I will re-iron a shirt even after I get it back from the cleaners. It's just one of those weird things that I can't stand."

Well, thanks to collegeinsider.com and its "Best Dressed Coach" title which was awarded to Dougherty, the coach's "weird" habit has finally paid off for himself and his basketball program.

Not only is Dougherty now the latest fashion expert among the TCU community and his family and friends, but the recognition has also brought a lot of attention to his team.

"It's a positive lead in for all conversations," he said. "Every time this is mentioned so is TCU. We can never get enough exposure here."

Angela Lento, chief operating officer of collegeinsider.com, said Dougherty won the seventh annual tournament this year because he looks good in whatever he wears.

"He's always very sharp," Lento said. "You never see him throwing his jacket off or looking like he just rolled out of bed. Some coaches dress doesn't fit their personality, but that isn't the case with him. His clothes were made to fit him, even his sweats."

The coach's run to the best dressed title wasn't an easy journey, however.

Dougherty, a No. 4 seed in the Web site's version of their field of 65, defeated three No. 1 seeds, including all three of the previous winners, en route to pulling off the improbable upset.

Dougherty fails to take credit for this title and instead jokes about his good fortunes.
"We pulled a shocker upset," he said. "I was led to believe we were losing and were about to be eliminated. But in the end, we pulled off the shocker. I mean, it's not like I did anything for this to happen. It just came to me."

Dougherty attributed the large campaign he had behind him to winning the title.

"I had two schools voting for me, while all the others had only one," he said. "I had the people from TCU and Kansas on my side. It was simply a matter of having a larger campaign than the rest."

It isn't so much what Dougherty or his supporters did for him to achieve this status as what his family has done.

Freshman point guard Neil Dougherty Jr. credits his mother, Patti, and sister, Megan, for his father's wardrobe.

"I don't know if it is his style that won him this award," Dougherty Jr. said. "That credit should go to my mom and sister. They are the ones always telling him what he should and shouldn't wear."

And Dougherty couldn't agree more.

"My wife is a champion shopper," he said. "She can shop all day long. I'm not good enough to even make the amateur league. I don't spend any time in the stores. I hate shopping."

In fact, Dougherty, owner of over 100 ties and 10 suits, said he would love to move his expensive gameday attire to the back of his closet.

"I'm real casual," he said. "I just wish I could be on the sideline in sweats. If I could go out there in a sweatsuit that matched our team colors I'd be so happy."

Either way, Dougherty's impressive threads have made him bobblehead worthy, the reward for winning the best dressed title.

"My own bobblehead, that will be funny," he said. "This will be so great, I can already see it in my parent's room."

Dougherty Jr. said the bobblehead is the first step to his father making a name for himself.

"That's what makes it so cool," he said. "I guess when they make a bobblehead of you, you have made it to the big time."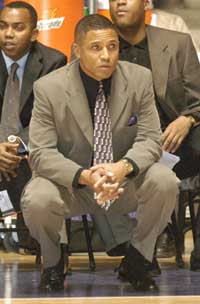 Stephen Spillman/Staff Photographer
TCU is receiving exposure due to men's basketball coach Neil Dougherty, who was voted best dressed coach by Collegeinsider.com.