Patterson confirms extension

Skiff Staff

Football head coach Gary Patterson confirmed Tuesday that he has agreed to sign a contract extension, though the terms have not been disclosed.

"This is where I want to be," Patterson told the Skiff in an e-mail.

According to the Dallas Morning News' online edition, Chancellor Victor Boschini said he would make the contract official by signing it later in the week.

Athletics director Eric Hyman said he would not confirm or deny reports that coach Patterson's contract had been extended and that there will be a statement released today.

When asked if the extension was a sign that his hard work has paid off, Patterson said, "Yes, in a way, but my goals are high, and we still have a lot to achieve."

Regarding the extension, Patterson said "everyone wants to wanted."

Patterson has a 27-11 record in three seasons with the Frogs, including an 11-2 record last season. The Frogs were off to a 10-0 start that had TCU chasing a Bowl Championship Series berth.

After losing to Southern Mississippi in the regular season, TCU made it to the PlainsCapital Fort Worth Bowl, where Boise State defeated the Frogs 34-31.

Patterson started coaching as a graduate assistant at his alma mater, Kansas State, and worked his way up the coaching ranks to become Dennis Franchione's defensive coordinator at TCU in 1998.

Two years later, Patterson became TCU's 30th head coach, replacing the departed Franchione before the 2000 GMAC Mobile Alabama Bowl.

In 2002, Patterson was named Conference USA Coach of the Year after a victory at the AXA Liberty Bowl. Patterson has led the Frogs to back-to-back Top 25 seasons for the first time since the 1950s.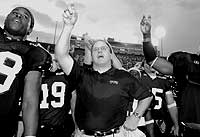 Ty Halasz/Staff Photographer
After agreeing to sign a contract extension, football head coach Gary Patterson said TCU is where he wants to be.