'Killer' kept audience guessing
Accusations flew as audience members and actors all tried to figure out who had killed Sir Roger Watersdown in a murder mystery dinner.

By Kristy Cubstead
Staff Reporter

The Pond Street Grill was momentarily transformed into a dinner theater with white linen table cloths, non-alcoholic champagne and a four-course meal as 55 students enjoyed a murder mystery Friday put on by Brachman's Hall Council.

The play was set in the 1930s as eight people gathered at the Watersdown Mansion in England for dinner. All had a grievance with Sir Roger Watersdown, and as they started eating, an inspector came and told them Sir Roger was killed, and one of them had done it because all the employees had an alibi. The inspector left them there for the night to figure out who the murderer was.

The audience laughed and whispered as the eight actors took turns walking around their table, accusing one another of the crime.

The play paused for desert, an eclair pie, giving the audience more time to discuss who they thought the killer was. After desert, the actors mingled with the audience asking who they thought had killed Sir Roger.

When the play resumed, the audience was given the opportunity to submit who they thought the killer was. All correct guesses were put into a bucket to have one name drawn after the killer was announced.

Roger S. B. Astird, known as Rog, was revealed as the killer of Sir Roger.

"Anyone could have been the murderer, it just happened to be me," said hall council member Ben Dalton, who played Rog, the killer who donned a cowboy hat and Hawaiian print shirt.

Freshman James Boone, who guessed the killer correctly, had his name drawn from the bucket and will win a prize that has not been decided.

The dinner theater was deemed a success by the resident assistants and hall council members as all the attendees left laughing and praising them for a job well done.

"It was really striking because it was different than other hall events," said freshman Laura Israel, a vocal music education major who attended the dinner theater.

Dianna Johnson, who played Randi, the pornographic actress wearing an elegant dress and boa, said the event was a fun experience.

"It brought a lot of people together who wouldn't normally be together," Johnson said.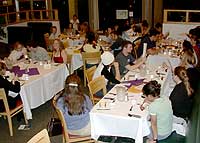 Braden Howell/Associate Editor
Brachman Hall residents discuss murder suspects over dinner Friday night at Pond Street Grill.