Egg hunt entertains local children

By Jennifer Noy

It wasn't your imagination, there really was an oversized bunny on campus this weekend.
The Easter Bunny and SuperFrog helped more then 750 children find Easter eggs on Sunday. The area in front of Sadler Hall from Clark Hall to Reed Hall was roped off for the children to run around searching for eggs and candy.

Chancellor Victor Boschini said the event was "a great way to bring campus into the community and the community into campus."

Six thousand brightly colored eggs filled with toys and candy as well as 1,000 loose pieces of candy were strewn about three sections. The children were broken up into three age groups with 13 eggs containing "golden tickets," or coupons to receive special prizes, said Hallie Lorimer, assistant director of alumni relations. The prizes ranged from cookie bouquets to free birthday parties, Lorimer said.

The Easter egg hunt was sponsored by the Fort Worth Alumni Chapter. All alumni that graduated after 1988 and still living in the Fort Worth area were invited to bring their children or volunteer, Lorimer said.

"The alums do so much for TCU," Lorimer said, "It is a good way to thank them by bringing joy to their child."

In addition to alumni, Boschini's family also attended the event and his two youngest children took part in the hunt.

"Anything on campus appeals to them because it is a chance to be around college students," Boschini said.

Lorimer, who has been in charge of the event for the past two years, held an "egg stuffing party" for Student Foundation Members to help prepare for the event.
Laughing, Lorimer said, "I spend four months getting ready and it is over in 10 minutes."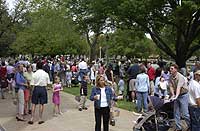 Raveen Bhasin/Staff Photographer
Hundreds of children and parents, along with a few Student Foundation members, the Easter Bunny and SuperFrog, mingle through Sadler Lawn after searching for eggs Sunday afternoon.