Two senior football players take time off to recover, gear up for fall
Two of the football team's veteran leaders look to recover from injury and get back to the practice field.

The Horned Frogs are three weeks into spring drills, but Reggie Harrell and Marvin Godbolt are already tired of watching the team practice.

These two seniors can't wait until they are healthy so they can get off the sidelines, strap on their helmet and bang heads again.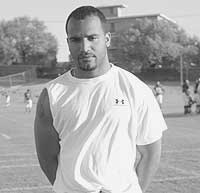 Sarah Chacko/Photo Editor
Senior safety Marvin Godbolt's knee injury may keep his presence off the field, but his mind is still on the game.