Tull's exit leaves a hole in one golf team
As one part of Brooke Tull's career nears its end, she hopes another awaits her in the professional ranks.

Senior golfer Brooke Tull said she dreams of playing golf professionally after she graduates next May.

She is well on her way to that goal. She has won four collegiate tournaments, including the Conference USA tournament her sophomore year. Tull has also been named C-USA Golfer of the year each of the past two years, and was TCU's Female Athlete of the Year for 2002-2003.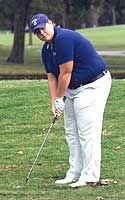 Courtesy of TCU Athletics Media Relations
Senior Brooke Tull, a nationally-ranked golfer, will be missed by her teammates and coaches after she finishes her last semester.