Frogs will avenge their second loss of season
The Frogs try to put their second loss of the season behind them and focus on their grueling upcoming schedule.

The TCU men's tennis team suffered its second loss of the season Thursday to No. 6 Rice in a close match, which saw the Owls come into town and take a 4-3 victory.

Assistant coach Cory Hubbard said the team came out a little flat at the beginning of the match in doubles play and he attributed that slow start to the Frogs losing for only the second time this season. He said no team can start off like that against a good team like Rice if it hope to come out on top.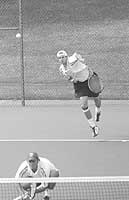 Stephen Spillman/Staff Photographer
Junior Fabrizio Sestini serves in a doubles game against Rice as teammate sophomore Rafael Abreu awaits play at the Friedman Tennis Center Thursday afternoon. The No. 19-ranked team won over the Tony Haerle/Vuk Rajevac team 8-6.