Top Frog
Corey Santee PG

Santee was the go-to guy for the Horned Frogs all season. When he wasn't scoring baskets or showing off his ball-handling skills, Santee was producing easy shots for his teammates with great passing. The junior guard led the team with 14.6 points, 4.4 assists and 1.1 steals a contest. With a productive third season, Santee has placed his name in the TCU record books. He has entered the program's top 10 all-time scoring list and is also on pace to become the TCU all-time leader in assists, a record Prince Fowler holds with 514. By earning third-team All-Conference USA honors this season, Santee also became the first Frog to earn conference honors since Junior Blount in 2002.
A look back on the Frogs' season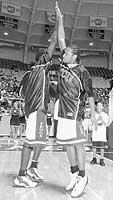 Ty Halasz/Staff Photographer
The Frogs go through their pre-game ritual of high-fiving during the announcement of the starting line-up.