Lady Frogs 'jonesing' for fourth C-USA title
A fourth consecutive Conference USA championship is on the line tonight in Houston.

By Brent Yarina

The Lady Frogs have played many big games during the Jeff Mittie era, but only a handful compare to the magnitude of tonight's battle in Houston.

A win at Hofheinz Pavilion would give the Lady Frogs a split against No. 14 Houston (23-3, 12-1 C-USA) and, more importantly, a share of the Conference USA championship with the Lady Cougars.

Also on the line tonight for the No. 15 Lady Frogs (22-4, 11-2 C-USA) is the opportunity to end the regular season with confidence and a victory heading into next weekend's C-USA Tournament at Daniel-Meyer Coliseum.

"This game is really important for us," junior forward Sandora Irvin said. "I want another ring. We have to come out of there with a win because it would be real nice to win conference four times in a row."

In order to get that ring, the Lady Frogs must contain Houston's Chandi Jones better than they did in the teams first meeting this season. The senior guard led the Lady Cougars to a 61-59 win with 32 points on 13-of-20 field goals Jan. 18.

Senior guard Ebony Shaw will draw the task of defending Jones, a Naismith College Basketball Player of the Year finalist who leads C-USA in scoring at 21.8 points a game.
Guarding Jones is nothing new for Shaw, however, as the two have been competing against each other the past four seasons.

"This isn't my first time," Shaw said. "I have to go against her every year so I know what to expect. She's one of those top caliber players. I give her all the credit, she makes all the tough shots and is one of the best I've ever faced."

That's quite a compliment to Jones, considering Shaw has squared up against Connecticut's Diana Taurasi, the 2003 Naismith National Player of the Year, and Duke's Alana Beard, a 2003 Victor Award winner as the National Player of the Year.

Mittie, whose in his fifth year as the Lady Frogs' head coach, said Shaw won't be the only player responsible for defending Jones.

"It will be important to mix up who we have on her because it shouldn't fall on any one player," Mittie said. "But Ebony will certainly be a part of that as she always has. She's as familiar with Jones as anyone else in the league."

Shaw said she isn't too worried about keeping Jones off the scoreboard because the leading Lady Cougar is going to get her points one way or another. Instead, Shaw said she wants to limit the number of quality looks Jones gets.

"She's going to get a lot of shot attempts," she said. "I just have to limit her touches, keep her from catching the ball. I want to make her take tough shots and deny her the ball. If she doesn't have the ball, she can't make any hoops."

Mittie said Jones will get her usual number of shots no matter what but that the Lady Frogs must make her work to get easy looks.

"We want to force her into some tough shots," he said. "She is going to score, but we have to make her work a lot harder than she did in the first game. The main thing is that she doesn't get any open looks to get herself going. We've had success against her when we have done that in the past."

Mittie said he doesn't want his team to make the mistake of focusing too hard on Jones, which allows easy opportunities for the other talented Lady Cougars, in particular Sancho Lyttle, who scored 30 points and grabbed 15 rebounds against DePaul last weekend.
"Our overall defensive goal is to stop Houston, not just Chandi Jones," he said. "Teams that don't do that get hurt by her and Sancho."

Irvin said the team feels like it let a victory slip away the last time it faced Houston and it's anxious for the rematch.

"A lot of that game was our fault," Irvin said. "We just have to play harder offensively, execute more and have fewer turnovers and everything should go our way."

The Lady Frogs committed 25 turnovers in the last meeting, but Mittie said his backcourt has played better since that game. In fact, the team has averaged a modest 19 turnovers the last three games.

"I think we are playing better basketball right now than we were back then," Mittie said. "I also think we have matured throughout the year and improved our ball control in the last two weeks."

Irvin understands the importance of this particular contest for the basketball program.
"It's all about the (NCAA Tournament)," she said. "If we win, this time we will have a better seed, so we won't have to play a (Connecticut) in the second round. We just have to go out there and bring home a win."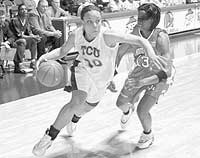 Ty Halasz/Staff Photographer
Senior guard Ebony Shaw (left) will have a chance to beat Houston tonight, but she'll have to get past Cougar standout Chandi Jones (right).