Working for women
Fewer females seek MBAs due to inflexibility
The School of Business is trying to balance the number of women and men seeking master of business administration degrees.

By Drew Irwin

The School of Business is trying to balance the number of men and women in the MBA program through Graduate Women in Business, a group that helps women deal with issues they will face in the business world, said Bob Greer, associate dean for graduate programs and research.

GWIB helps women learn about their possibilities in a business career. The group holds special receptions, seminars and luncheons for female graduate students to let women know what they will face in the professional world.

On campus, alumni and current female MBA students contact applicants to ease concerns about entering the program, according to Peggy Conway, director of admissions for the MBA program.

The Neeley School awarded 43 MBA degrees to women in 2002-03, while 83 were awarded to men. Seventy-eight more men received BBA degrees as well.

Greer said the statistics have been constant for years. One way the Neeley School hopes to balance the numbers is by spreading awareness, Greer said.

"We try to let women students know about the opportunities they have here," Greer said. "We want them to think about business as a career plan."

Greer said he has noticed women are more attracted to master's degrees in management and marketing. Marketing was one of two areas where more women received more master's degrees than men, according to the 2003 fact book.

More female students are choosing other graduate programs over the MBA program because businesses offer less flexibility for working parents, Greer said.

Greer said he thinks women are choosing law and medical graduate programs because those professions allow women more freedom to drop to a part-time basis during pregnancy.

"Employers are going to have to see the need to add flexibility," Greer said. "There's not much we can do about that here, but we can make the companies aware of the problem."

Bill Wempe, an associate professor in accounting, said it would benefit the business school to bring in more women.

"I think that one of the benefits of receiving an MBA from the Neeley School is the interaction that occurs with other students with different undergraduate backgrounds, different work experiences, and different points of view," Wempe said. "In that sense, I think increasing the number of women in the program would be a positive development."

A 2000 study, conducted by the business school at the University of Michigan, found that women "do not have enough accurate information about business" to pursue a master's degree. The study also found women do not have enough role models in business.

The report led to the creation of the Forte Foundation. Forte is a consortium of 23 members, including 13 business schools around the country.

While the Neeley School is not involved in Forte, Greer said the school is willing to do anything to help attract more women to business.

"We would love to be involved in anything that gives our women a chance for more opportunities in the business world," Greer said.

The University of Texas at Austin is the only university in Texas that is a member of Forte. Elissa Ellis, assistant dean at the Red McCombs School of Business at UT-Austin, also serves as executive director of the Forte Foundation.

"The most important thing is to support women throughout the pipeline," Ellis said. "We want to help them get where they need to go from whatever level they're at."

Ellis said the foundation helps in three ways. In addition to scholarships, the schools hold forums every year targeted at women pursuing an MBA career. This gives them a chance to meet other female students interested in business.

In addition, seven corporations including Dell Computers and JP Morgan Chase are members. These businesses offer internships for women where they can meet successful women in business.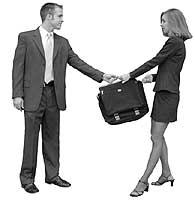 photo illustration/Sarah Chacko